Posted by Dave Cottrell on Dec 9th 2017
LGB trains are a terrific choice for Christmas for your favorite train fan. For your future fan, there's the cheery Christmas Holiday Train starter set in G scale. This sweet model train is cheerfully decorated in holiday colors, perfect for quality time by the Christmas tree while the turkey cooks in the overn. The LGB Christmas Holiday Train starter set includes everything needed bring a sparkle to the eyes of the receiver and maybe even to kindle the enthusiasm of America's next model train fan!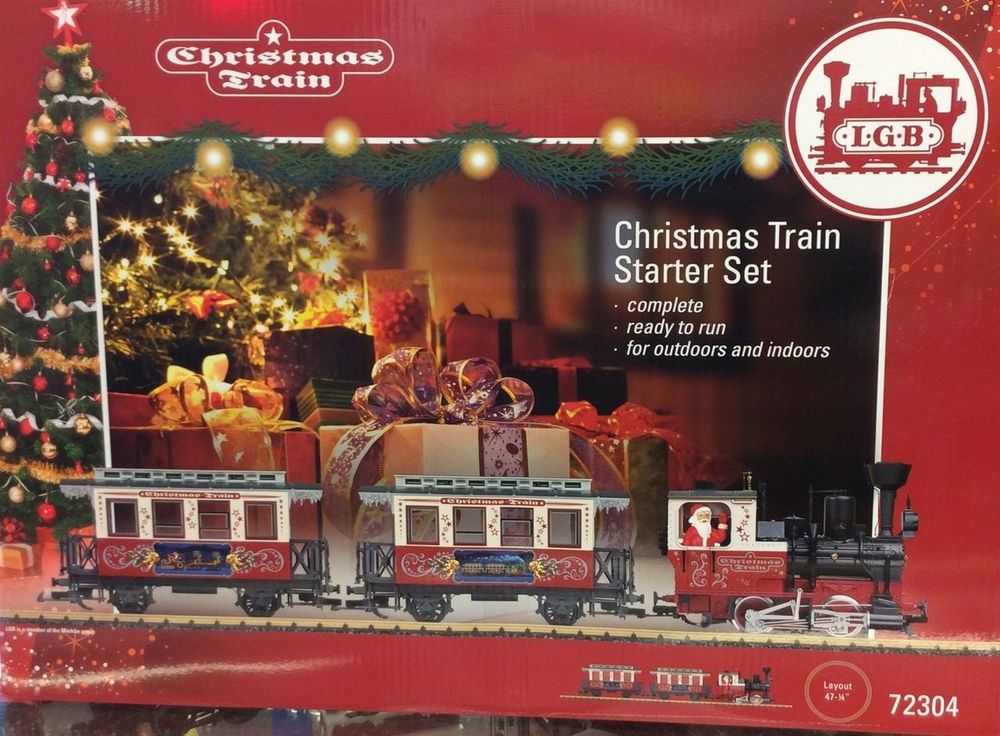 Over the years, the LGB G Scale model train railroad Christmas Train Starter Set has become a real favorite. With Santa as the engineer, this fun and festive steam locomotive is sure to bring smiles from everyone. The headlight actually works, and the engine puffs out smoke just like the real thing, thanks to the safe little smoke unit concealed within. Following the locomotive are two beautifully decorated passenger cars. The space-saving 4'3" (130cm) diameter circle of Code 332 brass track makes it easy to set up in any living room on Christmas day. How about running it around the tree?
The track that comes with the LGB Christmas Holiday Train starter set is fully compatible with the LGB Trains' extensive track system. A 120 volt power supply and speed controller comes with it, making it a snap to get it up and running right on Christmas day!
The story of LGB Trains goes back to 1968, when Ernst Paul Lehmann founded the company in Nuremberg, Germany. LGB stands for Lehmann Gross Bahn, which translated means Lehmann Big Railway. LGB trains introduced the "G" scale to model railroading, becoming the most popular garden railway model in Europe. Their introduction in the US is considered the catalyst that caused a North American revival of garden model railroading.
LGB Garden Railway layouts are literally world famous for their durability. Everything built by LGB, including their tracks, locomotives, rolling stock and accessories for their main product line work wonderfully well in every kind of weather. They are designed specifically to withstand every condition you would normally encounter in a garden railway layout.
LGB Trains and train sets are a great Christmas gifts for everyone, whether a child ready for the next level of responsibility, or the adult engineer in the household. They are not only loved for their beautiful and accurately crafted workmanship, but also for their versatility. LGB trains are suitable for creating a model railroad layout virtually anywhere!
Trains and Toy Soldiers now has a huge selection of LGB Train sets and accessories, but they are flying off the shelves. Christmas is getting very close. With next day shipping from Nebraska, there's still time to put that beautiful LGB train set under your tree. The knowledgeable and friendly staff at Trains and Toy Soldiers are very helpful and love to talk about model railroading, too. Whether you contact them by phone or by email, they are the place to find the perfect LGB Trains in time for Christmas!