MTH Trains (or M.T.H.), located in Columbia, Maryland, offers the widest range or model railroad products in the world. Their models include complete product lines in HO scale, two and three-rail O gauge, One Gauge and Lionel Corporation Tinplate.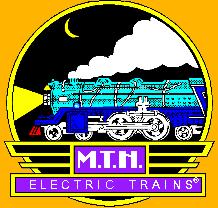 But where did MTH come from? What is the intriguing story behind this successful and growing American company?
MTH Electric Trains, formerly known as Mike's Train House, really began with a 12 year old boy an his passion for toy trains. Mike Wolf started out assembling and selling toy trains for Williams Electric Trains in 1973. Williams had begun manufacturing reproductions of Lionel Corporation trains in the early 1970s.
Mike's passion did not diminish throughout his teen years, and by 1980, he had opened a mail-order business out of a bedroom in his parents' house, selling Williams trains and parts. When Williams ended its line of Lionel Standard gauge and O gauge reproductions in the early 1980s, he bought the tooling and continued to build the replicas. Claims that Williams had acquired original Lionel tooling have been vigorously denied both by Mike Wolf and Jerry Williams.
Up until 1987, MTH was the sole supplier of these reproductions. Then in 1987, when Lionel approached MTH's Korean sub-contractor about producing Lionel's Standard Gauge trains, they sent them to talk to Mike Wolf. That meeting led to MTH becoming a subcontractor for Lionel, which meant that the Lionel name could be placed on MTH Lionel reproductions, which were then marketed by Lionel, themselves.
Unfortunately, or perhaps fortunately, considering where it eventually led, the relationship between MTH and Lionel was a tumultuous one. In 1993, after Lionel turned down an offer by MTH to build an O scale model of the General Electric Dash 8 diesel locomotive, Mike Wolf made the decision to go ahead and market it himself. To justify his decision, he cited lower orders for Lionel replicas.
As a result, Lionel canceled its contract with MTH who then filed an antitrust case. The suit was eventually settled out of court in 1995.
After the settlement, MTH expanded its product line to include the former vintage reproductions from Lionel, as well as equipment produced by other manufacturers and their own, original designs. MTH grew to become the world's largest manufacturer of O gauge trains by 1998, far surpassing Lionel's market share. At one time, MTH had around 135 employees!
During MTH's history, they also manufactured many sets of New York City subway cars, license by the MTA (Metropolitan Transportation Authority). They also produced two sets of Chicago 'L' cars. Due partly to the MTA's displeasure with MTH's realistic depiction of sets covered in graffiti, that license was eventually transferred to several other manufacturers, which really was sad for collectors, in my opinion.
The rivalry between Lionel and MTH, sometimes fierce, continues to this day. At the end of 1999, three former employees of Korea Brass were convicted after being charged with industrial espionage for the theft and use of proprietary MTH designs for the production of certain models for Lionel. In another case, MTH sued Lionel for industrial espionage. An undisclosed settlement was reached in MTH's favor in 2007, which was approved by the court in March of 2008.
Lionel Electric Trains began working with MTH Electric Trains under the Lionel Corporation banner in 2009, which gave MTH the right to put official Lionel and American Flyer graphics on its Lionel tinplate electric trains. The electronics are from MTH, while the exteriors carry authentic Lionel Corporation graphics
Today, all MTH models are produced with amazing detail, CD-quality digital sound, running smoothly at scale speeds. They are able to model pretty much any railroad from virtually any era, with multiple command and control systems and other features that allow multiple trains to be run on the same track at once.
At the date of this writing, they are still the only model railroad manufacturer who publishes a weekly newsletter by email, while producing catalogs and other literature that goes beyond simply being informative, and have branched into using social media to further connect with their fans.
MTH has a separate research and development center in Michigan with its own dedicated staff and more than 150 authorized service centers.