This week for our product spotlight, we're looking at our Kato Caltrains. Check out the Trains and Toy Soldiers store online or give us a call to explore our line of commuter rail trains.
Caltrain
"Caltrain (reporting mark JPBX) is a California commuter rail line on the San Francisco Peninsula and in the Santa Clara Valley (Silicon Valley). The northern terminus of the line is in San Francisco at 4th and King Streets; its southern terminus is in San Jose at Diridon Station with select trains running as far as Gilroy. Trains leave San Francisco and San Jose hourly during middays, and every 90 minutes during weekends, with limited stop service during rush hour running every 20 minutes, and "Baby Bullet" express service running every 30 minutes. Extra trains are often run for special events held in Oracle Park in San Francisco, Stanford Stadium in Palo Alto, and SAP Center in San Jose. Caltrain operates 92 weekday trains, six of which extend to Gilroy. Weekday ridership in February 2018 averaged 65,095.
Caltrain is governed by the Peninsula Corridor Joint Powers Board (PCJPB) which consists of agencies from the three counties served by Caltrain: San Francisco, San Mateo and Santa Clara. Each member agency has three representatives on a nine-member Board of Directors. The member agencies are the City and County of San Francisco, SamTrans and the Santa Clara Valley Transportation Authority.
Caltrain has 28 regular stops, one limited-service weekday-only stop (College Park), one football-only stop (Stanford), and two weekend-only stops (Broadway and Atherton). As of July 2018 Caltrain runs 92 weekday trains (22 Baby Bullet), 36 Saturday (4 Baby Bullet), and 32 Sunday (4 Baby Bullet).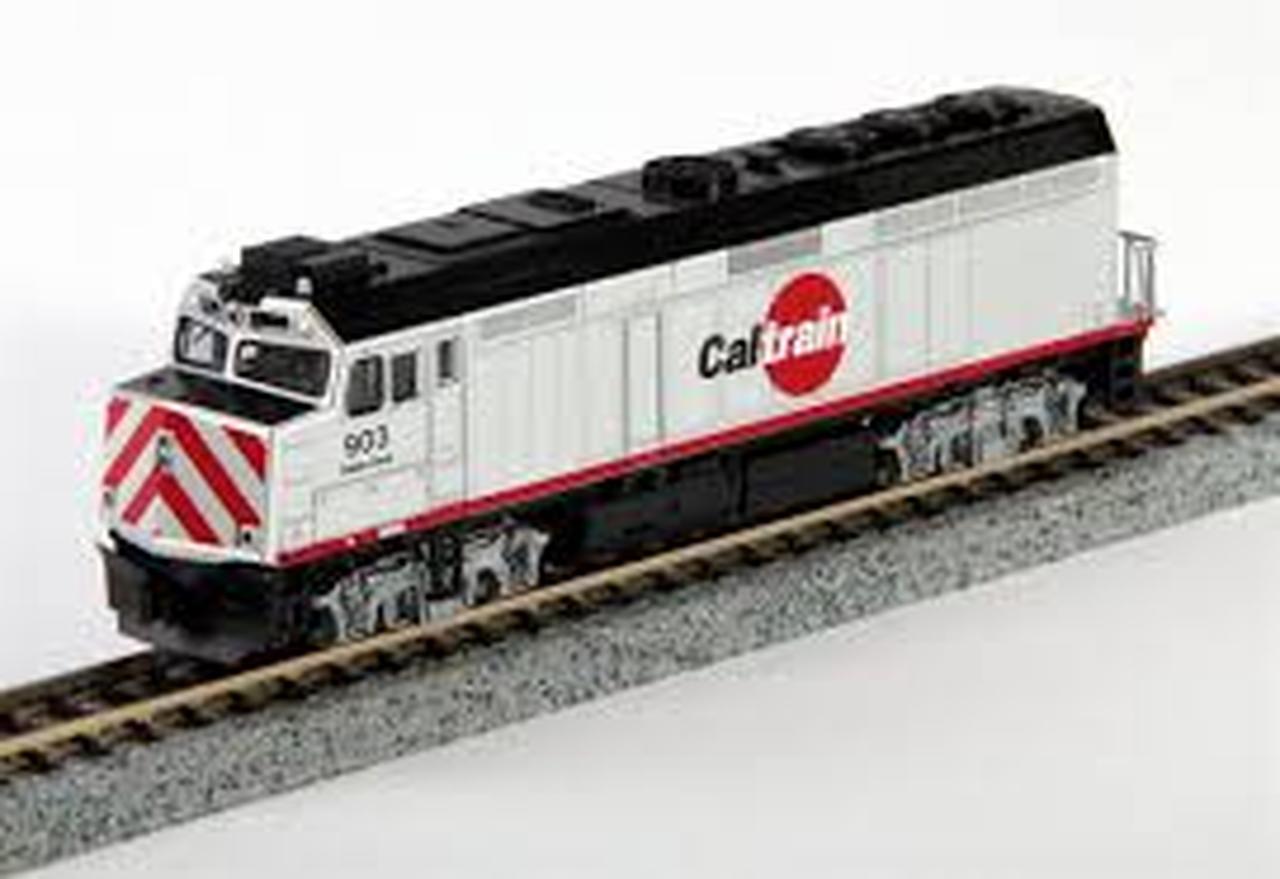 Image: Kato Trains 1769003 N Scale F40PH Diesel Caltrain #903 DCC. Available at Trains and Toy Soldiers.
History
The original commuter railroad built in 1863 was the San Francisco and San Jose Rail Road; it was purchased by Southern Pacific in 1870.
Southern Pacific (SP) double-tracked the line in 1904 and rerouted it via the Bayshore Cutoff. After 1945, ridership declined with the rise in automobile use; in 1977 SP petitioned the state Public Utilities Commission to discontinue the commuter operation because of ongoing losses. California legislators wrote Assembly Bill 1853 in 1977 to allow local transit districts along the line to make bulk purchases of tickets for resale at a loss, subsidizing commuters reliant on the Peninsula Commute until 1980; more importantly, the bill also authorized the California Department of Transportation (Caltrans) to begin negotiating with SP to operate the passenger rail service and acquire the right-of-way between San Bruno and Daly City.
To preserve the commuter service, in 1980 Caltrans contracted with SP and began to subsidize the Peninsula Commute. Caltrans purchased new locomotives and rolling stock, replacing SP equipment in 1985. Caltrans also upgraded stations, added shuttle buses to nearby employers, and dubbed the operation CalTrain" (Wikipedia).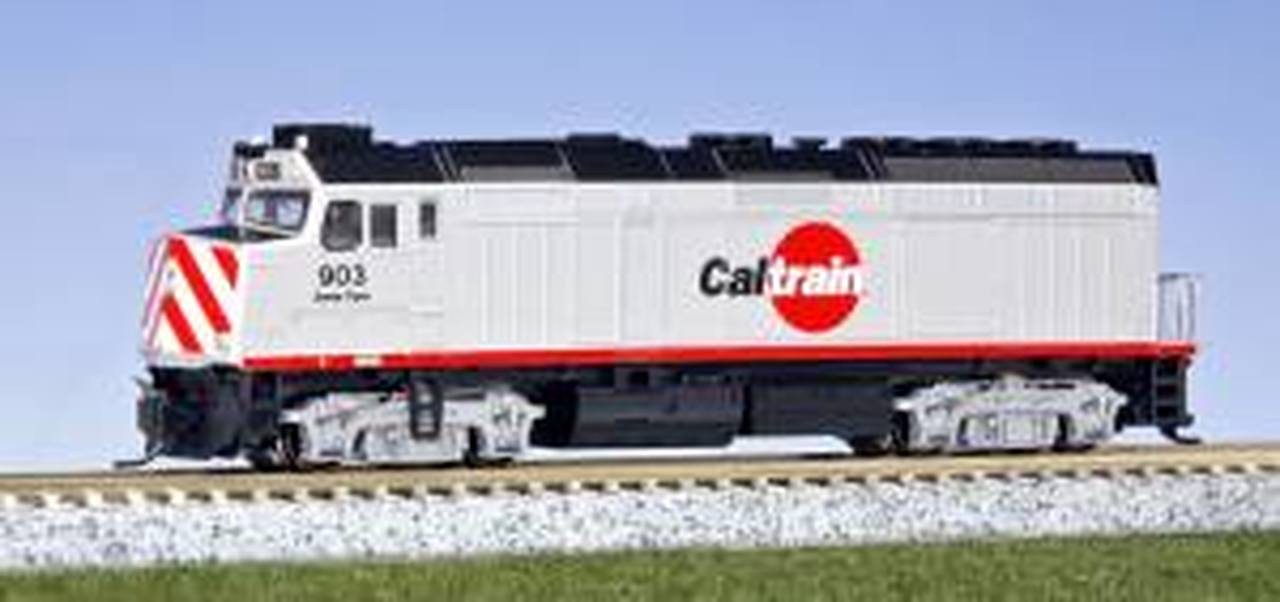 Image: Kato Trains 1769004 N Scale F40PH Diesel Caltrain #914. Available at Trains and Toy Soldiers.
Economic Trouble
Caltrain has had a budget crisis recently. "In May 2005 Caltrain started a series of fare increases and schedule changes in response to a projected budget shortfall. The frequency of the popular Baby Bullet express trains was increased; two express trains were added in May and another ten were added in August. New Baby Bullet stops, Pattern B stops, were introduced. Another increase of $0.25 in basic fare came in January 2006.
On April 2, 2010, Caltrain announced the need to cut its services by around 50%, as it was required to cut $30 million from its $97 million budget because all three authorities that fund the line were facing financial problems themselves and $10 million a year in previous state funding had been cut. Revenues for both local and state agencies had been steadily declining, as well as ticket revenues at Caltrain itself, and had left all "beyond broke."
On January 1, 2011, Caltrain cut 4 midday trains but upgraded 4 weekend trains to Baby Bullet service as a pilot program. This reduced its schedule from 90 to 86 trains each weekday. At the same time, it raised fares $0.25 and continued to contemplate cutting weekday service to 48 trains during commute hours only. By April 2011, Caltrain's board had approved a budget with fare increases to take effect on July 1, 2011, and no service cuts. The budget gap would be closed with another $0.25 fare increase, a $1 parking fee increase to $4, and additional money from other transit agencies and the MTC.
On February 17, 2017, California State Senator Jerry Hill introduced SB 797, which would permit the Peninsula Corridor Joint Powers Board to submit a regional measure for sales tax increase of 1⁄8th of one cent to the voters in the three counties served by Caltrain. The regional measure would require a two-thirds majority (aggregated among the three counties) to pass, and would provide Caltrain with a dedicated revenue source estimated at $100 million per year. For comparison, in fiscal year 2016 (ending June 30, 2016), the operating expenses for Caltrain were $118 million, and farebox revenues were $87 million, leaving approximately $31 million in expenses to be funded by the PCJPB through its member agencies and county government contributions. SB 797 passed the California State Senate in May, and the State Assembly in September, and Governor Brown signed the bill into law in October.
Advocates for the increased tax cited its potential benefits to alleviate congestion along U.S. 101, which Carl Guardino quipped "has become so congested that we've changed its name to the '101 Parking Lot'." Detractors pointed to Caltrain's bureaucracy and stated fares should be increased to improve services instead. A poll of 1,200 voters in early May indicated support was sufficiently strong enough to pass the sales tax increase, if the tax would result in expanding ridership capacity. The poll was sponsored by the Silicon Valley Leadership Group (SVLG), headed by Guardino, which predicted that daily ridership could rise to 250,000 with the improvements in service funded by the dedicated sales tax increase. Potential capital projects which could use the dedicated funding include additional electric multiple units (making electric trains 8-EMU consists, rather than 6-EMU), extended boarding platforms, and the proposed Downtown Rail Extension to the Transbay Transit Center. A dedicated tax was proposed in 2011, contemporaneously with the prior budget crisis, but polls at the time indicated insufficient support. After SVLG's May 2017 poll indicated strong support, they petitioned Hill to act" (Wikipedia).
Electrification
"The Caltrain Modernization Program will electrify the main line between San Francisco and the San Jose Tamien Station, allowing transition from diesel-electric locomotive power to fully electric rolling stock. Proponents say electrification would improve service times via faster acceleration, allow better scheduling and reduce air pollution and noise. Electrification would also allow future expansion to downtown San Francisco. Electrified vehicles require less maintenance, but electrification will increase required track maintenance by about the same dollar amount, at least initially. The plan calls to electrify the system between San Francisco 4th and King Street Station and San Jose Tamien Station. Originally scheduled for completion by 2020, the schedule had slipped after three months of construction to December 30, 2021 and then April 22, 2022. At that point, Caltrain plans to use electric multiple units and increase service to six trains per hour in each direction.
The electrification project between San Francisco and Tamien is the first phase, the second phase being from Tamien Station to Gilroy. Cost, excluding electric rolling stock, for the first phase was estimated at $471 million (2006 dollars). By 2016, costs had increased to $1.7 billion. As part of the Caltrain Modernization Program and mandated by the federal government, positive train control (PTC) was installed along the route between San Francisco and San Jose by late 2015.
Caltrain plans to use lighter electric multiple units that do not comply with the US Federal Railroad Administration (FRA) crashworthiness standards, but instead comply with the International Union of Railways (UIC) standards, on the electrified lines. FRA granted Caltrain a waiver to operate these units, which were previously banned on mix-used lines with other FRA-compliant rolling stock due to concerns over crash worthiness, after Caltrain submitted simulation data showing UIC-compliant rolling stock performed no worse or even better than FRA-compliant rolling stock in crashes. Caltrain plans to retain their newer diesel-electric rolling stock for use on the Dumbarton Extension and service south of Tamien.
Caltrain awarded the electrification and EMU contracts at the July 7, 2016 PCJPB board meeting to Balfour Beatty and Stadler Rail, respectively, signaling the start of modernization efforts that will make Caltrain more akin to rapid-transit services such as Bay Area Rapid Transit (BART) than traditional commuter services, and allow the future California High Speed Rail trains to reach San Francisco utilizing Caltrain tracks. In August 2016, Caltrain ordered sixteen six-car double-decker electric multiple unit Stadler Rail trainsets. The price is $166m for the 16 units, or $551m including an option of 96 more EMU cars.
However, the plans for an electrified Caltrain were put in jeopardy in February 2017 by the Trump administration when US Secretary of Transportation Elaine Chao decided to indefinitely delay granting the federal funding for the Caltrain electrification project that had been approved by the Obama administration. One month later, in March 2017, the American Public Transportation Association (APTA) sent a letter to Secretary Chao calling the Caltrain delay "concerning." In more than two decades, the APTA wrote, "no project has failed to secure final signature after successfully meeting evaluation criteria." In February 2017, Caltrain fired Parsons Transportation Group and sued them for delays in designing the custom technologies necessary for the PTC system. They then went on to sign a contract with Wabtec Railway Electronics Inc., who would offer them the industry-standard PTC system.
On April 30, legislators in the U.S. Congress included $100 million for the Caltrain electrification project in the proposed 2017 federal spending bill, which were signed into law by President Trump on May 6. The $100 million represents the federal funding for fiscal year 2017 of the total $647 million grant, with the balance expected in future years. Secretary Chao claimed she could not sign the grant without the full grant being budgeted, which was disputed by Caltrain and both California Senators Dianne Feinstein and Kamala Harris. On May 22, the FTA announced its intent to sign the funding grant, restoring the final piece of funding for the electrification project. The official grant was finally signed on May 23, and Caltrain broke ground for the Peninsula Corridor Electrification Project on July 21, 2017 in a ceremony attended by local and state officials at the Millbrae station. In December 2018, it was reported that Caltrain was again behind schedule in installing PTC for the rail corridor, and had requested a two-year extension.
As of January 2019, electrification of the entire stretch from San Francisco to San Jose is scheduled to be fully operational by 2022. No dates have been released surrounding the proposed second phase" (Wikipedia).
References
https://en.wikipedia.org/wiki/Caltrain
https://www.youtube.com/watch?v=1UlQOtbGNiM