Starting on Christmas Eve in 1914, only five months after war broke out in Europe, many German and British troops in World War I ceased fighting and sang Christmas carols to each other across the lines. At dawn on Christmas, several unarmed German soldiers came out of their trenches and started to cross no-man's-land, calling out, "Merry Christmas!" in the British soldiers' language.
British soldier Private Frederick Heath wrote that the German soldiers said Merry Christmas and,
'Come out, English soldier; come out here to us.' For some little time we were cautious, and did not even answer. Officers, fearing treachery, ordered the men to be silent. But up and down our line one heard the men answering that Christmas greeting from the enemy. How could we resist wishing each other a Merry Christmas, even though we might be at each other's throats immediately afterwards? So we kept up a running conversation with the Germans, all the while our hands ready on our rifles. Blood and peace, enmity and fraternity—war's most amazing paradox. The night wore on to dawn—a night made easier by songs from the German trenches, the pipings of piccolos and from our broad lines laughter and Christmas carols. Not a shot was fired.
Allied soldiers eventually came out of their trenches and met the German soldiers, and the men exchanged presents (such as puddings and cigarettes), sang songs, and played a soccer game. They lit Christmas trees around the trenches and came together for the first time since the war began, giving themselves permission to humanize each other for a brief moment. Some soldiers used the ceasefire to retrieve bodies of fallen combatants.
Men returned to their trenches at dusk, largely keeping the peace until midnight. George Eade, of the Rifles, had become friends with a German who said, "Today we have peace. Tomorrow, you fight for your country, I fight for mine. Good luck."
The next day, fighting resumed.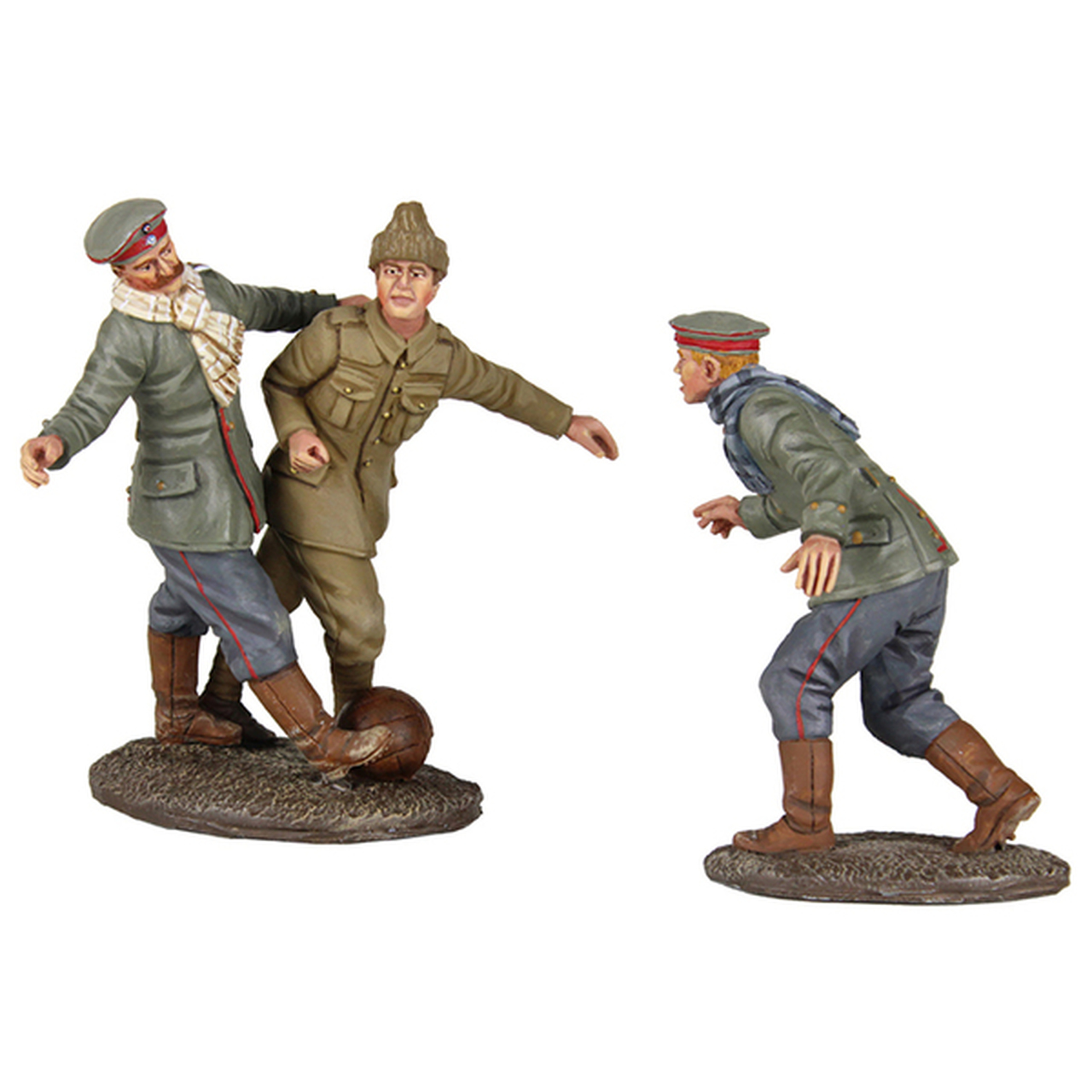 Image: WBritain 23088 A Friendly Game 1914 Christmas Truce Soccer Set No. 1 'No Man's Land Soccer Match'.
This Christmas Truce soccer set is ON SALE at Trains and Toy Soldiers, marked down from $59.95 down to $8.99. Get it today!
References & Further Reading:
https://www.history.com/topics/world-war-i/christmas-truce-of-1914
https://www.smithsonianmag.com/history/the-story-of-the-wwi-christmas-truce-11972213/