Trains and Toy Soldiers carries a wide range of figurines and collectibles, produced with a diverse range of methods. This week, we're featuring our collection of die-cast toys and learning about the die-casting process. Peruse our die-cast vehicles and figurines on our website!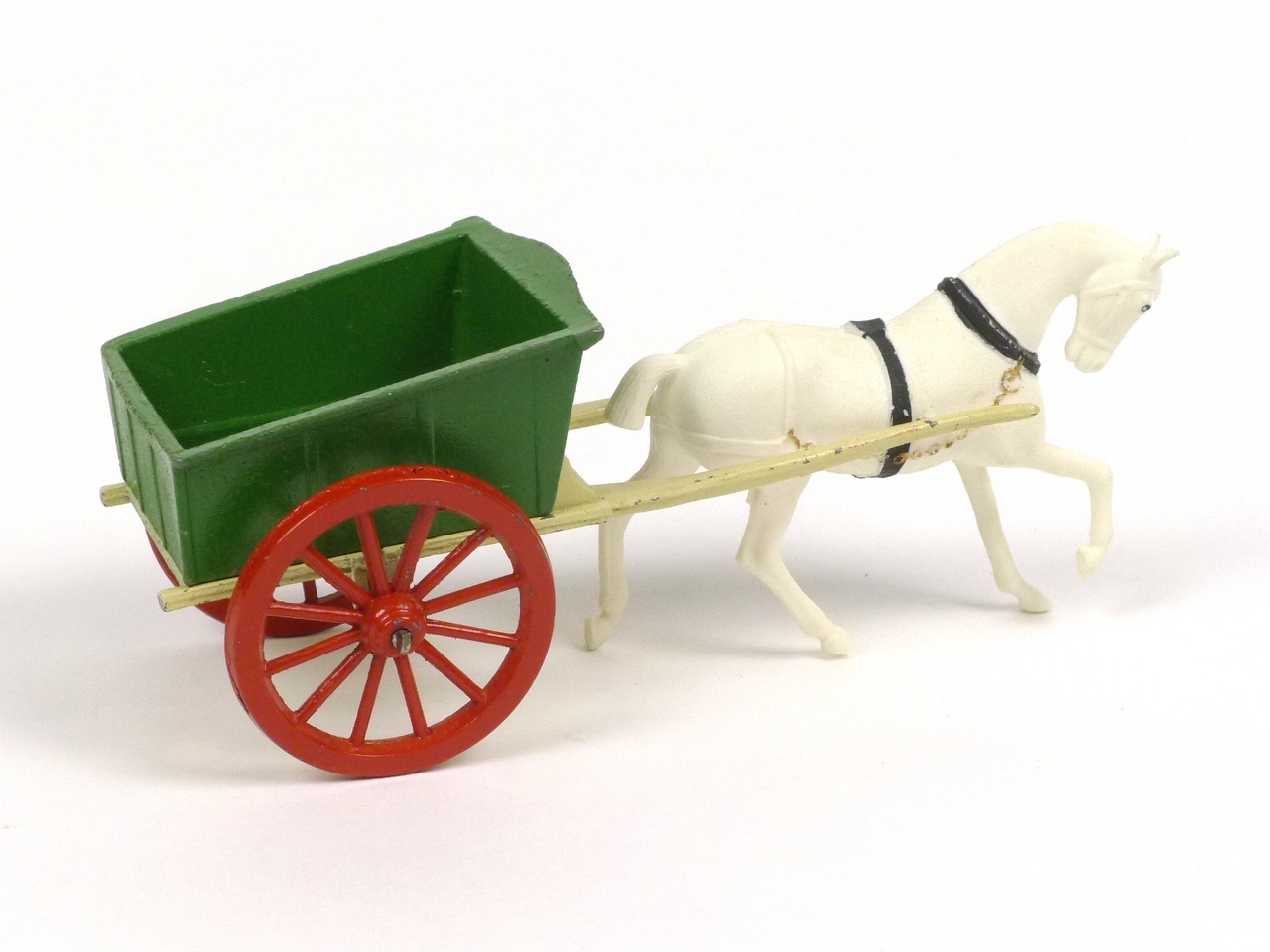 Image: Clint Bowyer 2013 Hoto Stealth #15 5-Hour Energy 1:24 Nascar Die-cast. Available from Trains and Toy Soldiers.
Die-casting refers to any toy or collectible model produced by using the die-casting method of putting molten lead or zinc alloy in a mold to produce a particular shape. Such toys are made of metal, with plastic, rubber, glass, or other machined metal parts. Wholly plastic toys are made by a similar process of injection molding, but the two methods are distinct because of the properties of the materials (Wikipedia).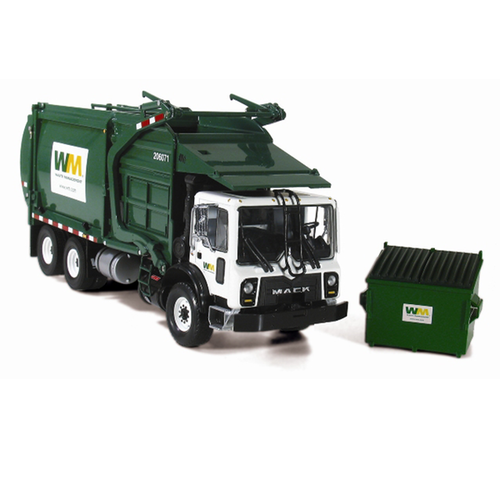 Image: First Gear Diecast Collectible Mack TerraPro Front With Wittke Front Load Refuse With Bin 1/34 Scale. Available from Trains and Toy Soldiers.
The metal used in die-casting is either a lead alloy (used early on), or more commonly, zamac, an alloy of zinc with small quantities of aluminum and copper. Impurities such as lead or iron must be carefully avoided, as they give rise to a deterioration of the metal most commonly called zinc pest. The terms "white metal" or "pot metal" are also used when applied to alloys based more on lead or iron. The most common die-cast vehicles are scale models of automobiles, aircraft, military vehicles, construction equipment, and trains, although almost anything can be produced by this method, like Monopoly game pieces, furniture handles, or metal garden sprinklers (Wikipedia). According to ChinaSavvy, aluminum die-casting is among the most popular approaches to produce correct pieces. Other die-casting resources are usually zinc, magnesium, and zamac. Die-cast components are usually as tiny as just a few grams, but can also be made up to several kilos (ChinaSavvy).
Check out this die casting animation to see how die-cast pieces are produced:

Die-cast toys and models come in various scales, the most popular ones being:
1:12 scale: Very large, highly detailed models; usually about 14 or 15 in (36 or 38 cm) long; mainly targeted at adult collectors. These models are generally much more expensive than the 1:18 models. Many diecast motorcycles are also produced in this scale.

1:18 scale: Large, detailed models, usually about 7 or 8 in (18 or 20 cm) long; mostly targeted at adults. America is the main market for these, although European, Asian and Australian companies also produce at this scale. 14+ age limit is typically written on the boxes. This scale is generally for collectors.

1:24 scale: This size became a standard among international diecast model makers like Mebetoys and Bburago of Italy during the 1980s. Companies like Maisto and Jada Toys today also focus on this scale. Franklin Mint, Trax, and many others also use this scale. An 8+ age limit is often written on the boxes, although there are some exceptions, like Welly, which have 14+ age limit on some models.

1:25 scale: Numerically, there is little difference between 1:24 and 1:25 scale, but historically, they represent very different approaches to modelling. Plastic promotional models and kits made in the United States as early as the post-war 1940s were traditionally in 1:25 scale.

1:32 scale: Intermediate size, most common for model tractors and other agricultural vehicles; Britains has used this scale for decades, and it is also used by Ertl and Siku. Vintage car brands like Signature Models are common in 1:32 scale.

1:36 scale: Popularized by Corgi in the 1970s, a common scale for toy vehicles seen as more properly sized for youngsters – such as models from Maisto, Kinsmart and Welly.

1:34 scale: Used almost exclusively by First Gear Models of the USA for their large scale diecast trucks.

1:43 scale: The most popular scale for model cars worldwide and dating from as early as the 1930s. This scale was made popular by Dinky as compatible with O gauge model railways. This scale is the most commonly used in Britain, Europe, Japan and Australia, but less so in the USA. In the 1950s and 1960s 1:43 scale models were sold more as toys while later In the US, Canada, Europe, Japan, and even South Africa, 1:43 became favored for hand-built models in resin and white metal. It was common also for trucks, but these are often found in the more manageable 1:50 scale.

1:48 scale: Several companies produce diecast model aircraft in 1:48 scale, which is a popular scale for plastic construction kits. Some diecast military vehicles and model train accessories are also made in this scale.

1:50 scale: The most widely used scale for construction vehicles and for other trucks and buses.

1:55 scale: used mostly by Siku of Germany for its toy range of cars and trucks. The Disney-Pixar Cars Die-Cast Line by Mattel are nominally in this scale.

1:60 scale: the scale of the immensely popular pre- and post-war military vehicles series by Dinky Toys (including military Dinky Supertoys), and still used by many military modelers.

1:64 scale: popular for farm models and American model trucks. Matchbox, Hot Wheels, Johnny Lightning, Greenlight and model NASCAR racers are nominally this size. However, in recent years, Japanese companies like Kyosho, Aoshima and CM's Corp have been producing ranges of highly detailed 1:64 models, including racing cars and road cars, with CM's Corp mainly producing 1:64 rally model cars. Australian models are available in this size from Biante and some other brands. This scale is compatible with S scale model trains.

1:66 scale: Roughly a 'Matchbox' size, used most commonly by Schuco. It should be remembered though that most producers of smaller diecast did not stick regularly to one scale – they stuck to one size – approximately 2.5 to 3 inches long, meaning trucks and sports cars were made the same size to fit in similar packaging and small hands – and not to a strict scale.

1:72 scale: usually used for military die-cast armored fighting vehicles due to compatibility with 1:72 plastic construction kits. Detailed cars produced by Real-X, Hongwell, Yat Ming, Kyosho, Epoch Co. and others. Details include glazed lights, rubber tires, real paint schemes.

1:76 scale: Scale popular mainly in Britain, Australia and Hong Kong for highly detailed buses and lorries such as those by EFE and Corgi OOC, and Trax Models in Australia. A major growth in this scale was caused when Oxford Diecast entered the market with a range of over 90 different cars and commercial vehicles. These models were originally intended as OO scale model railway accessories, but became collectibles in their own right.

1:87 scale: These are compatible with H0 scale model trains, and tend to be more popular in the USA and continental Europe. They are more commonly made of plastic, and German companies such as Herpa and Wiking produce wide ranges of highly detailed models in this scale.

1:148 scale: Compatible with British N scale model trains, this scale has recently gained popularity in the UK due to its compact size and low priced models from Oxford Diecast.

1:400 scale: A common scale for aircraft.

1:1200 scale: A common scale for ship models and accessories. Lines Bros. Ltd. produced an extensive range of ship models in this scale from 1959 - 1965 under the name Tri-ang Minic Ships.

Meccano (Dinky Toys) aircraft were made at scales ranging from 1/122 to 1/265 and their ships from 1/1200 to 1/1985 (Wikipedia).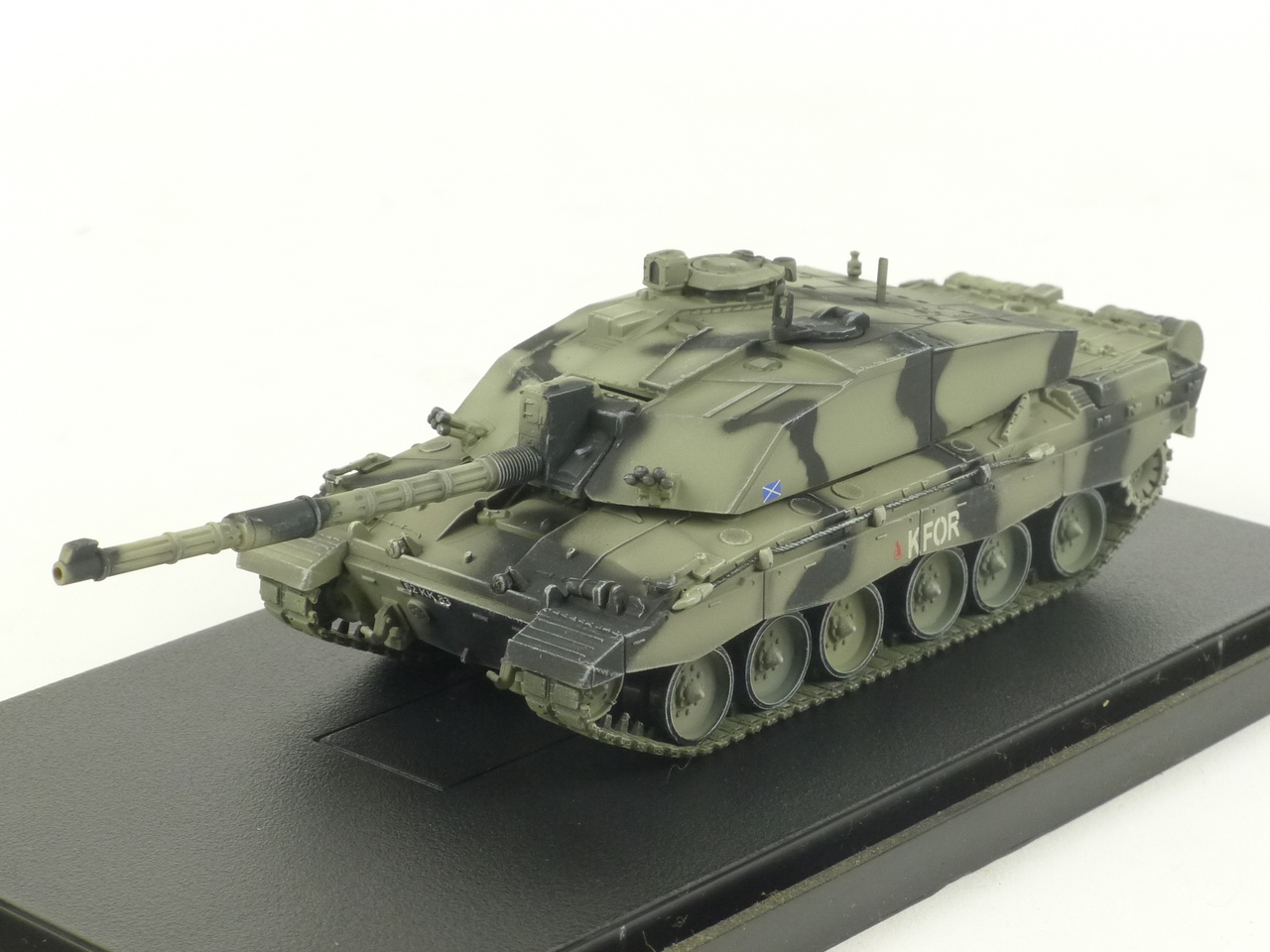 Image: Dragon Armor 60036 Challenger II Royal Scots Gragoon Guards 1/72 Scale Die-cast. Available from Trains and Toy Soldiers.
References

Wikipedia. Die-cast toy.
ChinaSavvy. Die casting animation. https://www.youtube.com/watch?v=Pj_mjjUQad8