Ken Osen and the amazing team at WBritain have exceeded even our high expectations yet again. The new military miniatures from WBritain are 1/30 scale metal figures with a matte finish. The emotional content and attention to detail which are the hallmark of any toy soldiers created by Ken Osen are again clearly visable in each of these new offerings. WBritain releases are from several different collections including Wrath of the Northmen, Clash of Empires, Napoleonic, American Civil War, Anglo-Zulu War, and World War II.
With twenty new and different WBritain Toy Soldiers available, there is something for everyone. Since are these items have just been released this week, this is first and best opportunity to add these great items to your collection. Below are just a few of the items that captured our imagination at first glance but there are many more items available on our website.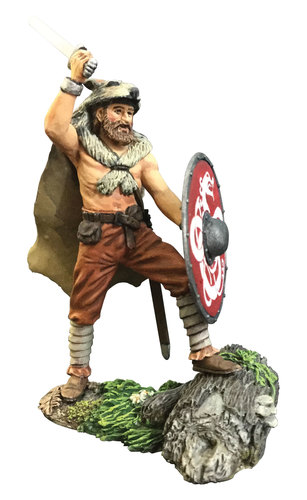 This Viking Warrior attacking is particularly stunning. Trains and Toy Soldiers is excited about all the great new Viking and Norman military miniatures available on the market today, even so this Viking Warrior Attacking Wearing Wolfskin named Augnarr is a must have. Since the toy soldier is modeled in 1/30 scale, it is compatible with military miniatures from other great manufactures on Toy Soldiers such as Conte Collectibles or King and Country.
The two piece set, "Overwhelmed" a Viking striking downed Saxon is a outstanding 2 piece set that will be an excellent addition to any diorama. It looks like it might be the end of this brave Norman warrior, but perhaps you will decide that help it about to arrive. On the best things about collecting toy soldiers is each collector's ability to use that same pieces to tell a different story.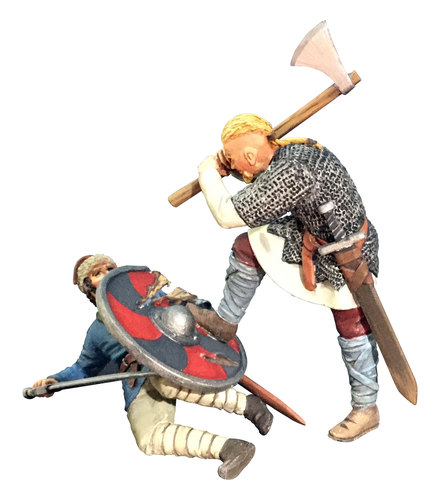 There other new Viking and Norman military miniatures just released from WBritain including Leofric, the Saxon Casualy falling; Osgar, the Saxon Warrior running with spear; and Carl, the warrior with an axe. These figures will have meld seamlessly with the other Wrath of the Northmen figures already available for Train and Toy Soldiers such as, WBritain Soldier 62103 Viking Wearing Gjermundbu Helmet, Swinging Sword and W Britain Soldier 62105 Viking Shield Wall Defender No. 2. All these great military miniatures are now available to be combined in new and ingenious ways.
WBritain has just released three limited edition sets. Each of these carefully crafted toy soldiers in part of the Clash of Empires series and only 350 sets will ever be created. Trains and Toy Soldiers encourages you to act soon to make sure you do miss out on your chance to own these unique military miniatures.