Did you know that John Adams believed July 2 was the correct day to celebrate American independence and reportedly turned down all invitations to appear at July 4th events in protest? John Adams and Thomas Jefferson both died on July 4, 1826, the 50th anniversary of the adoption of the Declaration of Independence (History.com).
According to History.com, the Fourth of July has been a federal holiday in the U.S. since 1941, but Independence Day celebrations can be traced back to the 18th century and the American Revolution. If you're looking for figurines and scale model pieces of this dynamic time in history, look no further than Trains and Toy Soldiers! We have plastic and metal soldiers from WBritain to King and Country and beyond – what better time than now to start making your new diorama or display?
History of American Independence Day
"When the initial battles in the Revolutionary War broke out in April 1775, few colonists desired complete independence from Great Britain, and those who did were considered radical.
By the middle of the following year, however, many more colonists had come to favor independence, thanks to growing hostility against Britain and the spread of revolutionary sentiments such as those expressed in the bestselling pamphlet "Common Sense," published by Thomas Paine in early 1776.
On June 7, when the Continental Congress met at the Pennsylvania State House (later Independence Hall) in Philadelphia, the Virginia delegate Richard Henry Lee introduced a motion calling for the colonies' independence.
Amid heated debate, Congress postponed the vote on Lee's resolution, but appointed a five-man committee—including Thomas Jefferson of Virginia, John Adams of Massachusetts, Roger Sherman of Connecticut, Benjamin Franklin of Pennsylvania and Robert R. Livingston of New York—to draft a formal statement justifying the break with Great Britain.
On July 2nd, the Continental Congress voted in favor of Lee's resolution for independence in a near-unanimous vote (the New York delegation abstained, but later voted affirmatively). On that day, John Adams wrote to his wife Abigail that July 2 "will be celebrated, by succeeding Generations, as the great anniversary Festival" and that the celebration should include "Pomp and Parade…Games, Sports, Guns, Bells, Bonfires and Illuminations from one End of this Continent to the other."
On July 4th, the Continental Congress formally adopted the Declaration of Independence, which had been written largely by Jefferson. Though the vote for actual independence took place on July 2nd, from then on the 4th became the day that was celebrated as the birth of American independence" (History.com).
Celebrating Today
This Fourth of July may look different from many others in recent memory. The nation is experiencing a global pandemic, and we are also in the midst of one of the largest civil rights movements in decades. Here are some ways to keep yourself and others safe from exposure to COVID-19 this Fourth of July:
1. Stay home with only those you live with
2. Wear a mask and don't forget the basics (like frequent hand-washing)
3. Stay outside where there's more airflow
4. Skip crowded beaches and pools
5. Keep kids apart from other kids who aren't in their bubble
6. Avoid bars and heavy drinking (unless you're in your own home with those you're living with!)
7. Don't share food
8. Bring your own sunscreen and bug spray (CNBC)
Read more from CNBC here: https://www.cnbc.com/2020/07/01/safety-tips-for-fourth-of-july-celebrations-during-covid-19-pandemic.html
Or watch this CBS video on how to protect yourself from coronavirus over the Fourth of July weekend:
https://www.youtube.com/watch?v=LnE6vEkSJvU
Looking for more ways to safely celebrate the Fourth of July? MTH trains are 12% off through Sunday, July 5! Use the code MTHSALE at checkout.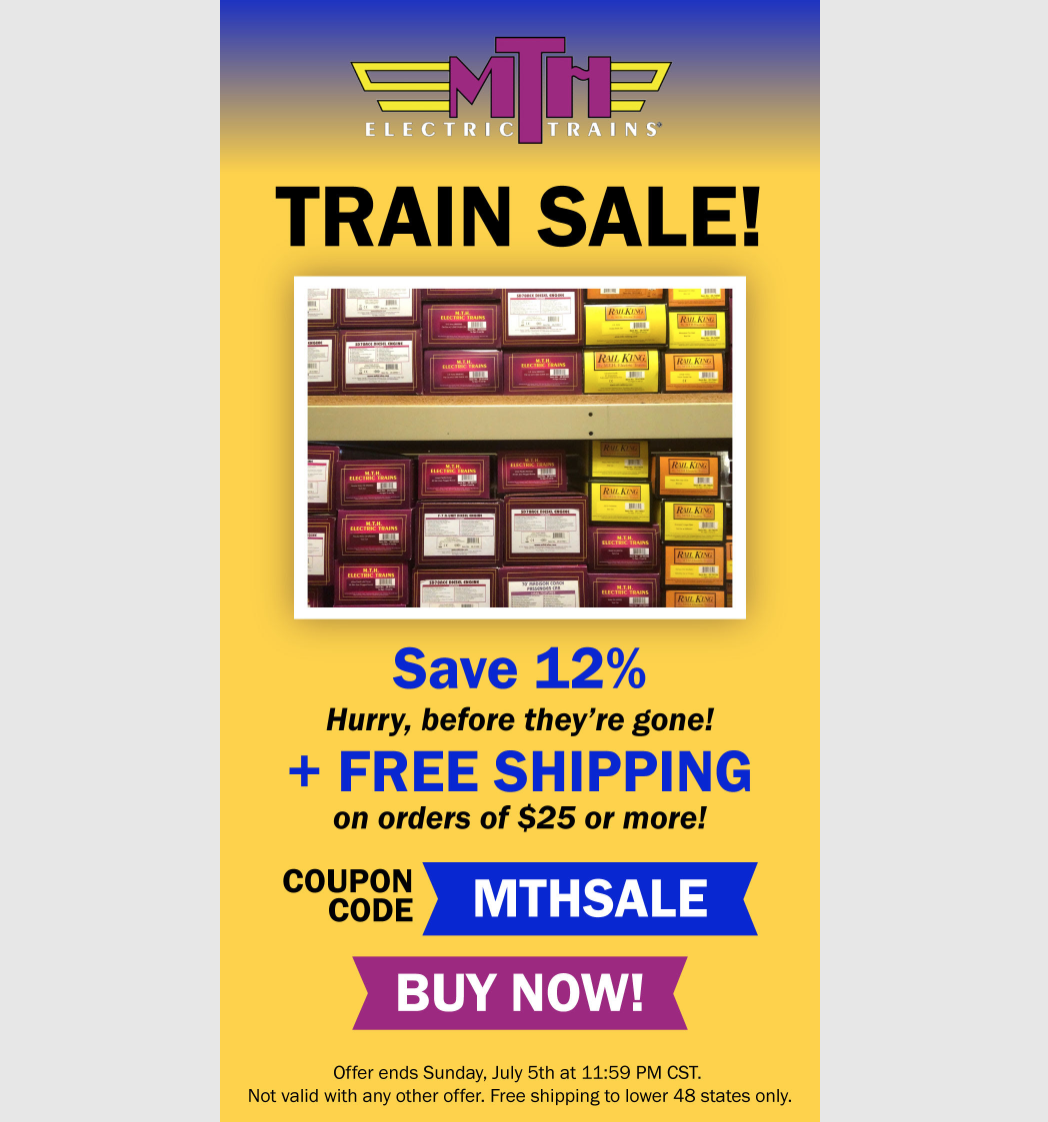 References & Further Reading
https://www.history.com/topics/holidays/july-4th
https://www.cnbc.com/2020/07/01/safety-tips-for-fourth-of-july-celebrations-during-covid-19-pandemic.html