A garden railroad is, as you would imagine, a model railway system set up outdoors in a garden. While G is the most popular scale for garden railroads, 16 mm scale has a dedicated and growing following especially in the UK. Trains and Toy Soldiers has a plethora of beautiful G Gauge model train sets that are perfect for making your own garden railroad.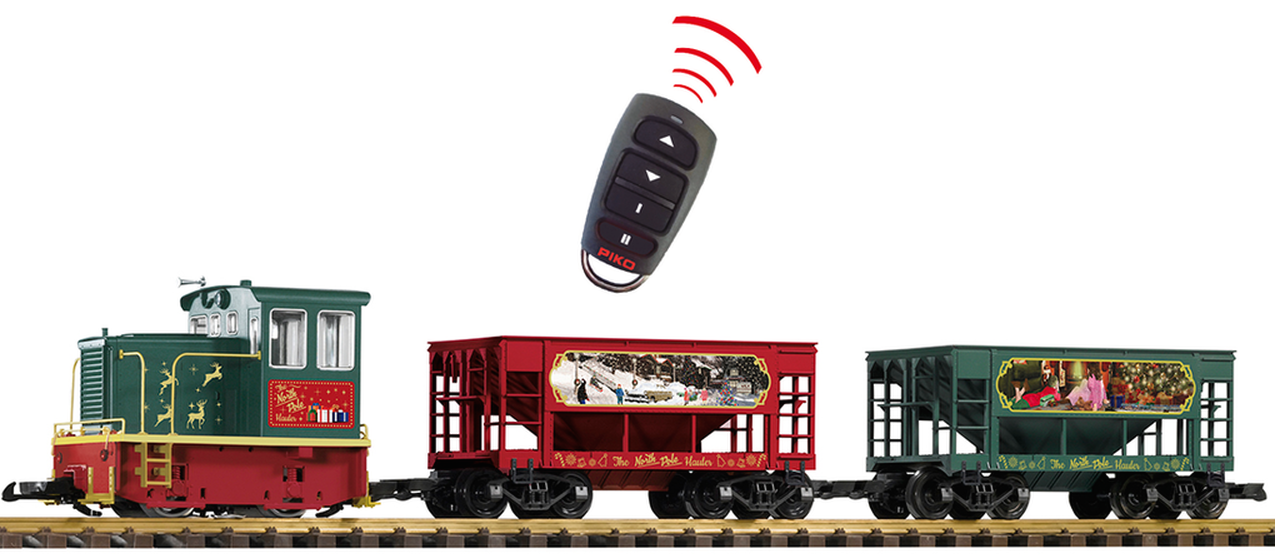 Image: Piko 38152 North Pole Hauler GE 25-Ton Starter Set G Scale Trains. Available from Trains and Toy Soldiers.
See how to build a basic garden railroad in the video below:
And check out this train's eye view of a leafy garden (G Gauge railway system on 250 meters of track):
A garden railway's scale tends to be in the range of 1/32 (Gauge 1) to 1/12 (1:12), running on either 45 mm (1.772 in) or 32 mm (1.26 in) gauge track. 1/32 scale (1:32) is also called "three-eighths scale" meaning 3/8 of an inch on the model represents one foot on the real thing. For similar reasons, 1/24 scale (1:24) is also called "half-inch scale". Other popular scales are 1:29, 1:20.3 (representing 3 ft (914 mm) gauge prototypes on 45 mm (1.772 in) track, 16 mm (1:19). They are smaller than the Backyard railroad, or what is commonly called a miniature railway, and would not provide a ride-on facility, being intended instead as a display railway. Smaller scales and gauges are used in the garden, but in general garden railway is used to refer to the medium scale sizes which would be impractical to use indoors (Wikipedia).

Image: Piko 38122 Christmas Freight Starter Set Lights, Sound, Smoke G Gauge Model Train Set. Available from Trains and Toy Soldiers.
Want to know how to make your own garden railway? WikiHow takes you through some basic steps (and check out the links in the Further Reading section below for more resources).
1. Plan a garden space suitable for the railway.
2. Build your team – who wants to be involved?
3. Plan the track and layout.
4. Plan the budget.
5. Purchase suitable track and carriages.
6. Prepare your garden space and start building the railway.
7. Select some trains to go on your track (we recommend the ones from Trains and Toy Soldiers, of course!).
8. Maintain the garden railway by weeding and trimming plants and caring for your trains.
See more details in the article here, and watch videos like the ones above to see examples of garden railways that are up and running.
As we approach holiday season, check out our Piko line of Christmas train sets, and make your backyard or garden a locomotive Christmas wonderland!
Further Reading & References
How to build a basic garden railroad, part 1. https://www.youtube.com/watch?v=rTpaHKF3-VQ
Journey through the garden. https://www.youtube.com/watch?v=ERhAuv3DAHE
Garden Railway. How to. https://grw.trains.com/how-to
Wikipedia. Garden railway. https://en.wikipedia.org/wiki/Garden_railway
WikiHow. How to make a garden railway. https://www.wikihow.com/Make-a-Garden-Railway