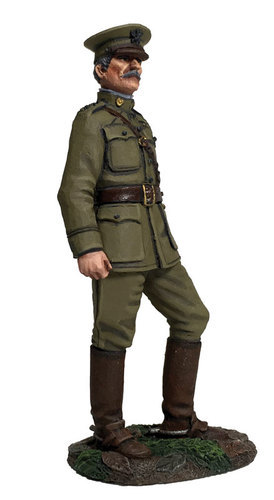 There were many brave men that left a mark in the history of the American nation, but few compare to General John J. Pershing. He was more than a soldier, only concerned with armed conflicts and wars, but also a man that enjoyed being part of his community. He loved life and he loved people, two things that can be seen during his entire career. Born on the 13th of September, 1860, John J. Pershing attended the United States Military Academy, and was assigned to the 6th cavalry after graduation. He was known for being an expert in military science and tactics, being part of many crucial expeditions, and efficiently guiding the American military forces wherever they were needed.
General Pershing had an incredible impact on the city of Lincoln. The state capitol of Nebraska. In 1894, John J Pershing took over the Military Department of the University of Nebraska. Although he constantly traveled around the country, due to his military activity, Pershing considered Lincoln one of his most important homes. Even though he was a professor of military science and tactics for a few years, between 1891 and 1895, he managed to change the university in a remarkable manner and made the town appreciate him dearly. John J Pershing's name can still be seen on many important buildings and landmarks in Lincoln. Gen. "Black Jack" Pershing was an important man in the Lincoln early years.
When Pershing first arrived at the University of Nebraska, the Military Department of the university was in a deplorable state. There were just 90 cadets with low morale and motivation, a sign that things were not working right at all. One of the most important changes Pershing made was to completely change the way promotions were given. He replaced criteria like the number of years a cadet drilled along with favoritism; with academics, military ability, potential, and terms served. These changes raised the morale of the cadets. The cadets might have grumbled on the parade ground and resented him for tough training, even so most of cadets felt proud to follow him. The cadets' discipline and pride improved, facts that made the University of Nebraska famous around the country, increasing the number of cadets from 90 to 350 after Pershing took control over the department.
General Pershing loved the community as well. He was often seen riding his pony around town, mingling with people, participating in hunting trips, picnics, parties, and at every other public event that took place in Lincoln. He appreciated everyone regardless of their social status and income, so he would often dine together at the local restaurant, Don Cameron, with young men that earned a lower income. Although life was not easy on him, a fierce house fire taking away his wife and three daughters, General Pershing continued doing his job and serving the country with the same dedication and commitment. He retired in the September of 1924, after 38 years of military service, leaving behind a legacy that will be remembered for centuries to come.