The month of May will feature the last performances of the legendary Ringling Brothers circus. While we are sad to see the end of the greatest show on earth, we will take comfort in the many great memories our family has had over the years going to the circus. Long before the curtain comes down on the Ringling Brother many of our micro-trains Ringling series will be sold out. We currently have only four circus cars left in N scale and two sets of two cars left in z scale. All of this Ringling Bros themed cars come from the great American electric model trains designer and builder Micro-Trains. Micro-Trains has been building electric model trains in Oregon since the 1960's. Below are a selection of remaining Ringling Brothers electric model trains.

This Ringling Brothers and Barnum & Bailey Equestrian Acrobats Car is a fine example of the hay day of the Ringling Brothers circus and simpler and more stately time in our past. The Ringling Bros circus still features Equestrian acrobats in their shows, and these acrobats are amazing to behold.

The Astounding Clarkonians were legends in their own time. The first began preforming with Ringling Brothers and Barnum & Bailey Circus in 1901. For decades they were a star attraction with thier daring and difficult routines on the flying trapeze. The Clarkonians acrobatic masterpiece was the double somersault with a pirouette, a feat so outstand that many people would not believe it could be done until they saw it themselves.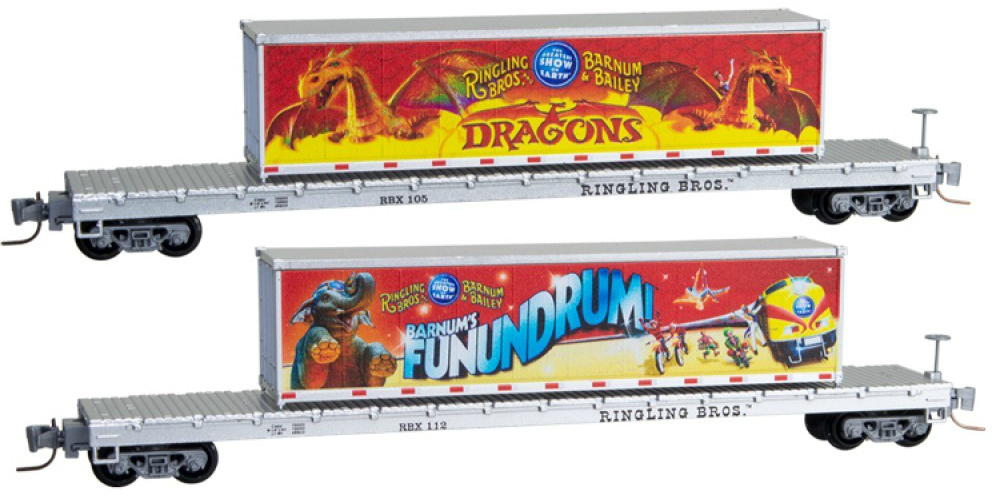 While the circus cars of my grandparents are a wonder to behold. This next selection reminds me of my days watching the circus with my aunts and uncles. Since I can remember there has only been one "Greatest Show on Earth," and I will miss it.