MTH Electric Trains, formerly known as Mike's Train House, is an American toy train and model railroad designer, importer, and manufacturer based in Maryland.
Mike Wolf, the MTH founder, started assembling and selling trains in 1973 at the age of twelve. When he was twenty years old, he opened a toy train mail order business in a bedroom of his parents' home.
Today, we're in the golden age of model railroading, with more product choices than seemed possible back in 1980. Trains have amazing detail, CD-quality sound, and run smoothly at scale speeds. We can model almost any railroad in almost any era. Railroaders can choose among multiple command control systems and experience more features and more fun while running multiple trains on the same track at the same time.
According to their website, MTH has the broadest product range of any model train company in the world. It offers full product lines in HO scale, two-rail, and three-rail O Gauge, One Gauge, and Lionel Corporation Tinplate. Check out MTH trains in the Trains and Toy Soldiers inventory!
Types of MTH trains:
RailKing trains are MTH's best-selling line. These smaller models run on O Gauge track. Because they are shorter, they negotiate tighter curves - a real advantage for model train enthusiasts with small layouts. RailKing items are identified with item numbers that begin with "30". RailKing Rugged Rails items begin with "33".

Full O Scale models, 1/48 the size of their prototypes and as detailed possible — offering O gauge's finest combination of detail, realism, and performance. MTH's Premier items are identified with item numbers that begin with "20" for Hi-Rail models with item numbers ending in "-1" and "22" for Scale Wheel models.

"HO Trains That Do More," including sound-equipped locomotives compatible with all HO operating systems: analog DC, NMRA- standard DCC, and MTH's Digital Command System (DCS). MTH's HO items are identified with item numbers that begin with "80" "81" or "85".

MTH S Gauge trains are MTH's newest product line first appearing in 2013. These smaller models run on S Gauge 2-rail track from any manufacturer. MTH S Gauge items, including our S Gauge S-Trax track components are identified with item numbers that begin with "35".

RailKing One-Gauge Trains: 1:32 scale American-prototype garden railway models equipped with sound, smoke, and DCS command control, suitable for outdoor or indoor, DC or AC operation. RailKing One Gauge items are identified with item numbers that begin with "70".

Lionel Electric Trains: This now discontinued product line was created as part of a ten-year licensing arrangement between MTH Electric Trains and Lionel LLC. The license expired in May 2019 and no more Lionel Corporation Tinplate products are being produced.

Realtrax is simply the easiest O Gauge track system ever manufactured. Featuring durable metal rails strong enough to stand on and a built-in roadbed for a realistic appearance ensures that a RealTrax layout will last for years while sporting a realistic appearance not found in other O Gauge track systems.

ScaleTrax™ by MTH Electric Trains is the ultimate track system that detail-oriented 3-rail modelers have been looking for. No longer will an O Gauge modeler have to accept excessively tall or heavy-looking track, because ScaleTrax offers maximum accuracy and the exceptional quality of MTH products. It's perfect for creating an authentic looking 3-rail layout.

DCS is a system for controlling your entire layout — multiple Proto-Sound 2.0 and 3.0-equipped engines, switches, and accessories — from one or more wireless handheld controllers. DCS is compatible with all MTH® Proto-Sound® 2.0- or 3.0- equipped locomotives, regardless of scale.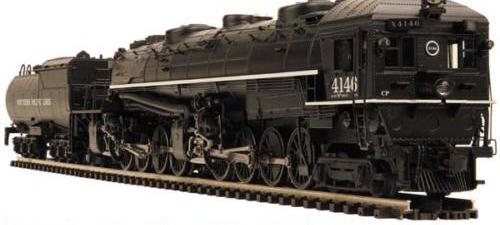 History of MTH trains:
From 1983 to 1987, MTH marketed reproduction trains on its own. Before the end of 1987, MTH became a Lionel subcontractor, allowing MTH's Lionel reproductions to bear the Lionel name and be marketed by Lionel itself. As part of the agreement, MTH sold Lionel trains product as part of its mail order business. By the early 1990s, it was the second-largest mail-order Lionel dealer in the country.
In 1993, MTH decided to re-enter the market with an O Scale model of the General Dash 8 diesel locomotive, which Wolf had first offered to produce for Lionel. Turned down, Wolf decided to market the locomotive himself. Then-Lionel CEO Richard Kughn, who learned of the decision from a flyer at a train show, responded by canceling MTH's Lionel dealership. MTH, in turn, filed an anti-trust suit against Lionel, which was settled out of court in 1995. MTH then expanded its product line, adding the former Lionel vintage reproductions, reproductions of equipment from other manufacturers, and new original designs. By 1998, MTH was the largest manufacturer of O Gauge trains, eclipsing Lionel's market share by approximately $60 million to $50 million.
In April 2000, MTH again sued Lionel, this time for industrial espionage, citing as evidence original electronic drawing files and the precedent set in South Korean criminal courts. On June 7, 2004, a jury in Detroit, Michigan, found Lionel guilty and awarded MTH $40.8 million. On December 14, 2006, the judgement was overturned on appeal, citing legal mistakes in the jury trial, and a new trial was ordered.
Model trains were taken to the courts again – on December 30, 2005, the Union Pacific Railroad sued MTH for using its logos, along with logos of various fallen flag railroads it has acquired, without a license. UP had previously sued other manufacturers, most notably Lionel and Athearn, for the same reason. At the time of the suit, UP had 104 licensees. The suit requested that MTH stop using the trademarks, pay damages, and send UP-branded inventory to the railroad for destruction.
On November 8, 2006, MTH Electric Trains and Union Pacific Railroad announced that they had amicably settled the trademark infringement case that Union Pacific filed against MTH in the Omaha, Nebraska, federal court. The settlement benefits both parties as well as the entire model railroad industry, allows Union Pacific to continue to protect its intellectual property, and authorizes MTH's use of Union Pacific's trademarks and paint designs on model train products and accessories. Union Pacific has also decided to change its trademark-licensing program so that model railroad manufacturers will no longer have to pay a royalty and will enjoy a perpetual license to use Union Pacific trademarks and paint designs on model railroad products.
In late 2007, Lionel and MTH settled their long-term fight over trade secrets and patent infringements. In March 2008, the court approved a settlement, which has its details under court seal, that includes a one-time cash payment to MTH that will take place soon after Lionel exits bankruptcy.
In 2009, Lionel Electric Trains and MTH Electric Trains began working together under the Lionel Corporation banner, allowing MTH Trains to produce the Lionel tinplate electric trains with the official graphics. The interior electronics are from MTH Electric Trains, but the exterior bears the Lionel Corporation graphics.
The licensing agreement between MTH and Lionel LLC to manufacture tinplate trains with the Lionel logo is set to terminate in 2019. While an option to continue the relationship was proffered, the renewal terms offered by Lionel for an extension beyond 2019 were not conducive for any future MTH tinplate plans.
MTH has also produced many sets of New York City Subway cars, licensed by the MTA, and two sets of Chicago 'L' cars. MTH is widely credited with bringing innovations into model train manufacture and lowering prices.
Trains and Toy Soldiers is happy to have numerous MTH train sets and pieces. Check them out on our website, in addition to our many other brands from Lionel to Hartland Locomotive Works to LGB to Piko to RMT and beyond.