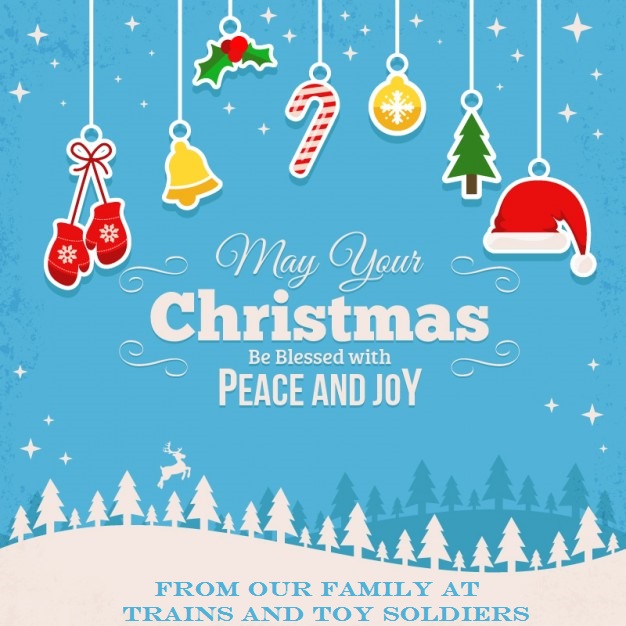 Trains and Toy Soldiers would like to wish you and yours a very Merry Christmas. This has been a wonderful year here at Trains and Toy Soldiers and that is all because of the wonderful people, like you, that buy from us. We are very fortunate at Trains and Toy Soldiers helping people find the Trains, Toy Soldiers, Die-Cast Collectibles, Model Kits, and other toys that they are looking for. We have added several popular new products including New-Ray Toy Soldiers, Heartland Locomotive Works, and Royal Darwin Wildlife figures. We have expanded our selection of Lionel, MTH, and Micro Trains products. The highlight of the year was meeting many of you at the Chicago Toy Soldier Show and Lincoln Train Show. It was also our first full year at our new showroom and it was great having people from as far away and Chicago, Kansas City, and Denver stop by and take home some new treasures. Lincoln is right on interstate I-80, so make sure you stop by next time you are driving across country.

The whole Trains and Toy Soldiers Family knows that we are very blessed to be able to sell collectibles and toys for a living. Of course, we are always excited when we are able to provide a collector with WBritain items that you have spent months searching for, or when we can provide a father or grandfather with a Thomas the Tank Engine Toy their young child has had their heart set on. We know that we are incredibly lucky to be Santa's little helpers and have a small connection with a child's face filled with joy as they open their gifts. We have also been overwhelmed by the demand for the new LGB Christmas Train Set, and enjoy the thought of Christmas Trains under Christmas trees bringing that time-honored tradition to a new generation of young model railroaders.
Trains and Toy Soldiers knows that all this possible through your continued patronage. We will work hard to keep your business in the new year and we will have several exciting announcements next year including new offerings from William Britain, Conte Collectibles, and First Gear.