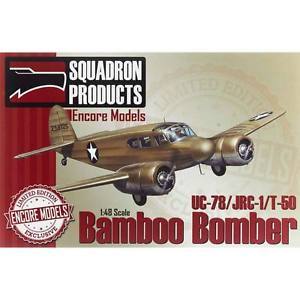 The Squadron Products Bamboo Bomber is one our most popular plastic model kits. Originally sold at an manufacture suggested retail price of $59.95 it is current available from Trains and Toy Soldiers for only $29.99 plus shipping and handling.
This great plastic model kit is based one of the most amazing and durable planes ever built. The Cessna AT-17 was the base model for many different conversions of this two seat trainer that was made during World War II. Countless pilots of World War II earned their wings while training in the cockpit of the Cessna T-50. It was powered by The AT-17 two Jacobs R-755-9 radial piston engines. Dubbed the "Bamboo Bomber" by the pilots who flew them, because it was made mostly of wood, laminated spruce and plywood. It was light weight and the cost was low to produce, making it good for both military transport and commercial use.
General characteristics
Crew: pilot+four
Length: 32 ft 9 in
Wingspan: 41 ft 11 in
Height: 9 ft 11 in
Wing area: 295 sq ft
Empty weight: 3,500 lb
Gross weight: 5,700 lb
Max takeoff weight:6,062 lb
Performance
Maximum speed: 169 kn; 314 km/h (195 mph)
Cruise speed: 152 kn; 282 km/h (175 mph)
Range: 652 nmi; 1,207 km (750 mi)
Service ceiling: 22,000 ft (6,700 m)
The Air Corps started using the bobcat in June of 1941. Cessna Aircraft Company produced 4,600 Bobcats for the U.S. military and the military of other countries, but it became obsolete by 1949.
It flew for 13 other Air Forces up until 1965. They were also used by small airlines, charter and "bush" operators and private pilots.
As a kid each Saturday morning tv was heard "OUT OF THE CLEAR BLUE OF THE WESTERN SKY…" was "Sky King" Flying the Bamboo Bomber, Songbird 1. The Bamboo Bomber became famous as a part of the popular 50s television series Sky King. When I would see Sky King take off in the Cessna T-50 Bobcat, it would inspire me and many other young boys with the thrill of flight. It seemed sometimes that the Songbird 1, was the star of the show. Songbird 1, had been military surplus that was owned by Hollywood's legendary Air racer and Stunt pilot Paul Mantz. Sonbird 1 was grounded after episode 39 due to rot in the wooden frame. Songbird 1 is still FAA-registered to a private owner in Missouri.
As the wood wing structures and fabric covering began to get older they became harder and harder to maintain. Many have been restored and are flown today by airplane enthusiasts, who like the way in which the Bamboo Bomber handles. From 1985 to 1997 Bill Stookey spent $300,000 restoring a Bamboo Bomber, which he named Lu Lu after his high school sweetheart. Though Stookey began his flying career in the "Bamboo Bomber," he later went on to fly jets and the Boeing 747.
At the unveiling of the restored Bomber, he stood between the shiny new warbird and the displayed 1944 photo of himself as a proud 19-year-old cadet who had just received his wings, history wasn't all that was restored. "I still feel like a young guy," he said smiling.
In 2009, FAA records show 378 T-50s, and 30 UC-78s are listed on the FAA registration database.
Truly a remarkable plane made from WOOD, The Bamboo Bomber.