Trains and Toy Soldiers is proud to offer the Bachmann Train 00647 Santa Fe Flyer HO Scale Model Train Set. Famous for hauling freight across the deserts, mountains, and cities of the American landscape is the Santa Fe Flyer. Powered by a mighty Santa Fe FT diesel locomotive with its distinctive "war bonnet" paint scheme, this sleek and powerful train deftly handles the ever-changing terrain of the Southwest United States. The Santa Fe FT diesel locomotive is a favorite amongst railroaders. The Santa Fe Flyer includes EMD FT diesel locomotive with operating headlight open quad hopper gondola off-center caboose body-mounted E-Z Mate couplers 36" circle of snap-fit E-Z Track including 11 pieces of curved track and 1 curved plug-in terminal rerailer power pack and speed controller illustrated instruction manual.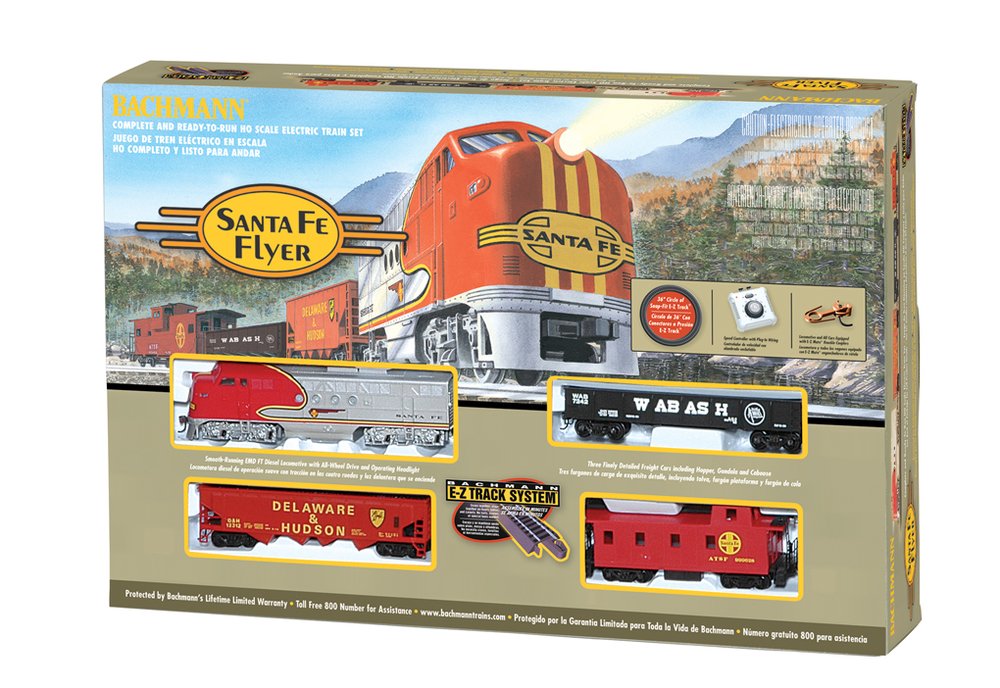 A lifetime of fun model railroading often begin with a starter set. This starter set comes with everything you need to begin railroading. Once you assembly the 12 piece of track included in the set and plug the power pack in, you will be ready to begin enjoying your new hobby. Trains and Toy Soldiers knows that railroading is a tradition that is passed down through the generations. The family here at Trains and Toy Soldiers has enjoyed passing the love of model railroading down to our children and grandchildren.
Trains and Toy Soldiers loves providing model train sets to people that have never purchased an electric model railroad set before or those that are buying a new electric model set for a new generation. HO Scale model railroading is the most popular gauge worldwide which means you have a wide selection of additional engines, rolling stock and accessories to expand your layout.
Trains and Toy Soldiers is committed to helping you find the model train set that is right for you, please call us at
1-800-786-1888 or leave us a message here.