Trains and Toy Soldiers is pleased to present the Bachmann Trains 00706 BNSF Rail Chief Freight GP40 Set HO Scale. You will command the rails with this striking Rail Chief set. Complete with miniature people and a signal bridge, this 130-piece set will let you oversee your own detailed railroading empire. This ready-to-run train set includes EMD GP40 diesel locomotive with operating headlight, open quad hopper, gondola, steel reefer, off-center caboose, body-mounted E-Z Mate couplers. A 47" x 38" oval of snap-fit E-Z Track which includes 12 pieces curved track, 1 piece straight track, and 1 plug-in terminal rerailer, signal bridge, 36 miniature figures, 24 telephone poles, 48 railroad and street signs, power pack and speed controller illustrated instruction manual.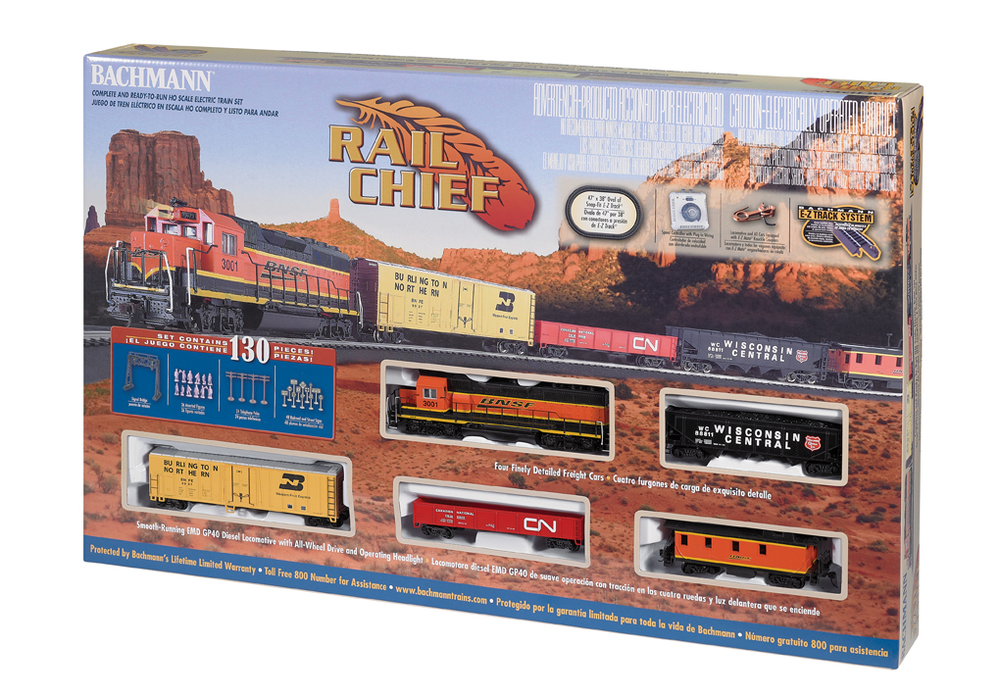 Trains and Toy Soldiers is committed to bringing you the best electric model train sets available today. Many people begin their journey into model railroading with their first train set. Train sets are the best way to begin your new hobby in a single box. Since 14 pieces of track are included in the BNSF Rail Chief Freight GP40 Set, you will be able to setup your layout. The easy to use speed controller and durable power pack are ready to us once you plug them in. The quality Bachmann BNSF Diesel GP40 engine and well-crafted gondola cars and caboose ensures not only will you be able to start quick, your new train layout will look good from day one.
Trains and Toy Soldiers is committed to bringing the worlds best customers the world's best electric model trains. If you have any questions about this or any of our other excellent model train sets call us at 1-800-786-1888 or send us a message here. Enjoy and happy railroading.