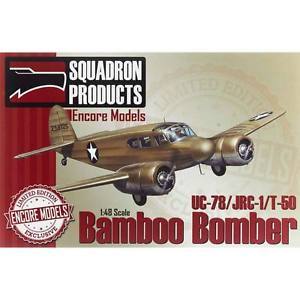 Squadron Encore models have been bringing military aviation history to life since Squadron was founded by the late Mr. Jerry Campbell in 1968. Beginning as a hobby shop in Detroit, Michigan, it wasn't long before Squadron had shops open from coast to coast. From San Francisco to New York City, Squadron, "A Story With a Modeler's Heart," connected with modelers and lovers of nostalgia, alike.
Faced with a changing marketplace, Squadron eventually phased out the stores and made the move to the mail-order business for all their retail business. At the same time, they continued to grow their wholesale business under the banner of Military Model Distributors, which has an incredible success story of its own.
Military Model Distributors (MMD-Squadron) is today one of the world's largest manufacturers and distributors of model kits, military and aviation books, RC products and of course, collectibles.
Jerry Campbell continued to run his company until he retired from Squadron in 2005. His legacy continues to this day. Squadron is now based out of a distribution center in Carrollton, Texas. Their mission is still the same, to make the products and tools of this hobby available to everyone.
This brings us to Encore Models. These are a little different and a wonderful innovation by Squadron. These are multi-media kit renditions of different brand name model airplane kits that have either been long out of production and re-release or current models that have been updated in some form by Squadron for sale under the Encore brand.
All Encore offerings come with special printed decals and resin accessories. Furthermore, there are usually multiple versions of decals to choose from. This is every modeler's dream. If you're a modeler, yourself, how many times have you thought, "I could do this better?" That's what Squadron does with their Encore models. They take existing model kits and make them better.
This means that each kit is truer to its inspiration, right down to the finish and accessories. In fact, True Details is a Squadron invention. Rather than accept the status quo of the original high production runs, they have now created many hundreds of update sets, including wheels, seats, cockpit sets, ordinance and all the things a passionate modeler could want to turn a basic model airplane into an artistic masterpiece.
Have you ever cursed yourself for ruining a canopy with too much glue or paint? Oh, my fat fingers, yes! Squadron Canopies are the answer. They know what it's like, and have created the solution for lost, broken, glued up, painted badly and otherwise ruined or misplaced canopies for your otherwise perfect model plane.
What is quite amazing is that on top of the high quality and passionate attention to detail, Squadron/Encore models are anything but expensive. Prices for the kits that range from WWI biplanes to the Pulsejet fighters of the WWII Luftwaffe range from as low as $4.99 to $39.99 at Trains and Toy Soldiers.
Squadron is a strong supporter of veterans. Not only do they employ veterans at Squadron, estimates show that some 30 to 40% of their customer base are vets. Modeling has been shown to be a very therapeutic pastime, which helps to relieve symptoms of PTSD, depression and some of the other things our heroes face every day at home. The modeling community that supports and drives Squadron can be very helpful for our returning veterans as they make the transition back to what we consider normal, here at home.
Squadron Encore models offer an excellent and economical way to begin or expand a very rewarding hobby. Enjoy a moment or two browsing the selection and perhaps discover your next project!