Passion, love, persistence and patience. These are words that can define both model building and collecting. They could also very well define All Diorama's founder and CEO, Adrian Cisneros.
A mechanical engineer by profession, Adrian Cisneros brings the same attention to detail and precision of purpose to modeling. Having started more than 50 years ago with model kit building, his desire to find better ways to express his craft eventually led him to create dioramas for his models. As he likes to say: "the hobby just cannot be put aside and one always endeavors to try new things." This mindset is also what led him, as years passed, to become a nationally and internationally-awarded model builder.
It was not easy, however. Adrian Cisneros found the marketplace could not supply the tools he needed to create his vision. "The lack of products and accessories forced me to come up with my own solutions," Adrian says. "Eventually I came across the notion that the main goal of a diorama was its ability to tell a story, so whatever I built had to be aimed at that."
But being able to tell a story in a compelling way is more easily said than done. Not everyone has the inclination, the resources or even the patience to build a diorama, let alone an award-winning one. Realizing that, Adrian became convinced that he had to put his experience and ideas on diorama-building at the service of those modelers and collectors who had trouble developing ideas in a small space through specialized products.
That is when All Diorama was born.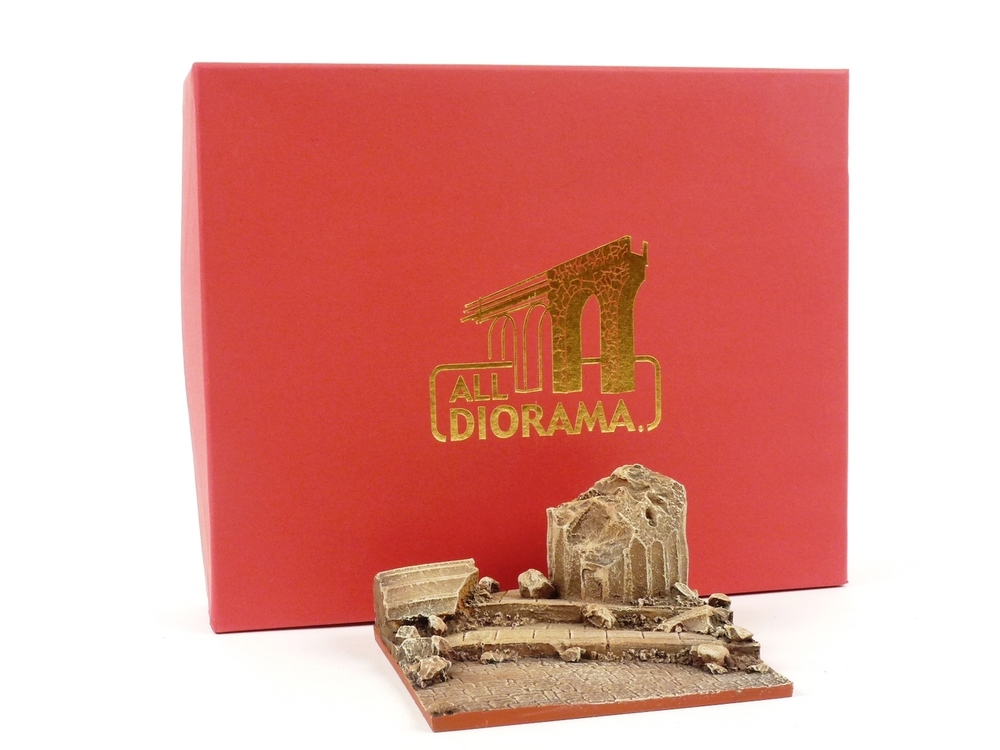 "A fellow modeler and I started developing product ideas...pre-made bases and accessories that made it easy for anyone to tell a story. We basically started by developing what we would have liked there was in the market when we had to build everything and we went from there," Adrian recalls. All products had to pay great attention to detail: they were meant to help win awards or to make great displays for collectibles. Above all, they were meant to tell a story compellingly, no matter the subject. This attention to detail permeated on the company itself, as well: All Diorama has striven to become world-class from day one. "The products and the company selling them had to be as good as any you might find out there, regardless of their place of origin," Adrian states.
All Diorama began its mission to create the world's best, ready to use diorama bases and accessories. Adrian had to work on conjugating professional artisans, production processes and marketing to address these issues. And that was, perhaps, his greatest talent: his ability to conjugate seemingly dissimilar factors to come up with a sustainable solution. To Adrian the order of business was clear, "we worked a lot on creating products were an effective vehicle to capture my ideas (and the customers'). That is when we also started expanding the lines, pre-Colombian items and the like."
This was also when All Diorama started offering custom-made projects. It is worth noting because it reflected one of the traits for which Adrian Cisneros is best known: his willingness to share his experience. Indeed, Adrian is always ready to provide tips as to the hobby itself and the use of his products, which in turn has led customers to feel comfortable enough to share ideas and suggestions that have become All Diorama items. "In the end, this is a community. I always encourage everyone, especially the younger generations, to come to us for advice. It is also a win-win: we have given voice to those with very specific ideas in mind and they have given us the privilege to be involved in the making of dioramas that are among the best in the medium."
As All Diorama continues evolving, their goal is to make top-of-the-line products has not changed. As Adrian likes to say: "To achieve higher goals, it does not matter if your idea does not turn out well at first, you have got to keep trying. With passion, love and patience, the greatest things in life can be accomplished." This is also why we at Trains & Toy Soldiers are proud to work with All Diorama in consolidating its position as the premiere desktop diorama builder, but above all, to provide an enjoyable experience to our customers.