Thomas Gunn Miniatures is a relative newcomer in the collectible scale model industry. However, don't let the fact that they only launched in the summer of 2009 fool you! Their very reason for being was and is from a passion to improve on the quality of 1/30th scale figures being produced.
Based in the United Kingdom, they produce individual figures, mounted cavalry, armored fighting vehicles, military aircraft and special multi-figure vignettes. Each of their figures and sets are assigned their own limited production number, underlining the fact that these offerings are truly only available in limited quantities.
As artists and collectors with a love of quality, accuracy and fine detail themselves, what they were observing was a world of collectibles where commerce and profits, often accompanied by
rapidly rising prices and boring, oversold products. This spurred them on to develop a brand that would eventually greatly expand the range of fine quality miniatures available for discerning collectors around the world.
Thomas Gunn Miniatures really are unique among their peers. They produce no more than 350 copies of most new pieces they develop, lending a high degree of exclusivity to each one. Furthermore, they work hard to create regular new releases. This means they must focus a lot of time and effort into research, which is something they love. This really shows in the careful detail visible in each piece.
Additionally, with their hands-on research and work, they are able to keep their spending low, which really shows in their ability to produce such high-quality miniatures while keeping their prices down. Thomas Gunn Miniatures pride themselves on their attention to detail, the value for the price of each product and their ability to keep their costs down.
Beginning in 2009, Thomas Gunn Miniatures produced WWII figures, expanding since then to cover many other eras and battles. Their goal is and has always been to produce the very finest military miniatures on the market. From their outset, they have put precision and accuracy at the forefront of every product they create.
The incredible quality of Thomas Gunn Miniatures, right from their inception, is proven in the fact that they are thriving in 2017. By choosing to produce 1/30th scale toy soldiers, they placed themselves in direct competition with the biggest names in military miniatures, including Figarti, King and Country, Conte Collectibles and John Jenkins Design. The fact that they have been able to enter and thrive in this esteemed arena is a testimony to the quality and desirability of their fine miniatures.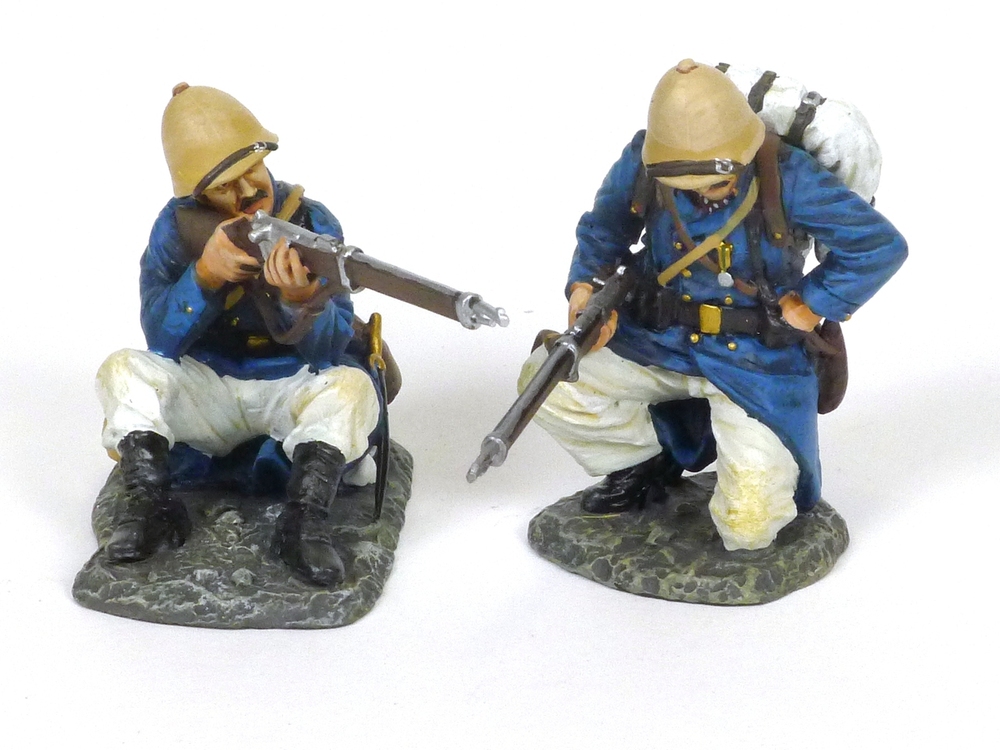 While they began with WWII German military figures in 2009, their French Foreign Legion figures have proven to be outstanding and very popular with collectors. The toy soldiers in this series come in many exciting and authentic poses, including training, marching and of course, fighting. Arabic soldiers, the enemies of the French Foreign Legion soldiers, are also included in this series. These miniatures are highly sought after and each new figure sells out quickly!
Since mid 2016, Thomas Gunn Miniatures has greatly expanded their models from both sides of World War I, including German infantry, Anzacs (Australian and New Zealand Army Corps), flying aces, Tommies and more. The ever-popular Lawrence of Arabia miniatures, also from this era, continue to be produced.
Thomas Gunn Miniatures began with WWII figures, and they continue to produce them to this day, allowing even new collectors to round out their displays of famous battles from that war. Even some of the experimental equipment from Germany is offered in beautiful and authentic detail.
Today, they offer figures and vignettes from many more conflicts, including the Napoleonic Wars, the Zulu War and the French and Indian War. The scale and subject matter of many of the Thomas Gunn Miniatures fit right in with collectibles from several other famous manufacturers, as well.
Trains and Toy Soldiers is very proud to offer Thomas Gunn Miniatures for discerning collectors.