Thomas Gunn toy soldiers and certain special associated figures produced by Thomas Gunn Miniatures have been inspiring collectors since their establishment in 2009. With very short runs for each edition of precision crafted and hand painted figures, their high quality 1/30th scale miniatures have become strong favorites for collectors.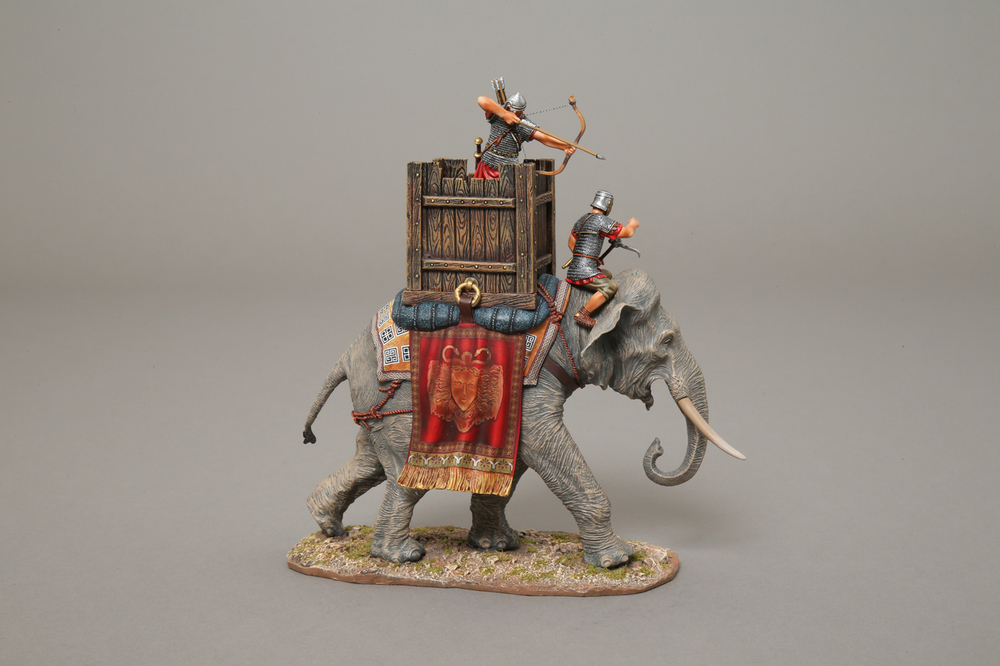 These almost lifelike miniatures include armored military vehicles and airplanes, mounted cavalry, individual figures and multi-figure action combinations, such as the new Roman War Elephant Glory of Rome.
The first Thomas Gunn toy soldiers were a range of World War II Germans. One of the attractions of Thomas Gunn Miniatures, apart from their obvious high quality and low numbers is their proclivity for creating miniatures of real, historical figures, such as Kurt Knispel, a German tank commander in the 12th Panzer Division and 503rd Heavy Panzer Battalion during WWII, who was awarded the German Cross in Gold for his service. He was the most successful ace in armored warfare of all time.
(Interestingly enough, the remains of Kurt Knispel and 15 of his comrades were discovered in 2013 behind a church wall in Vrbovec, Czechoslovakia, where they had lain since April 28th, 1945. His identity was confirmed by his dog tags.)
Another faithful creation of a real personage from history is the figure of Bruno Meyer, the German Stuka Dive Bomber, who received the Knight's Cross on August 21st, 1941 and rose to the position of Major in July of 1944. Thomas Gunn Miniatures has also created several of the planes flown by this WWII tank-busting ace, the HS129 with long 75mm cannon and the HS129 with the 37mm cannon.
Thomas Gunn Miniatures is known for creating numerous accurate historical figures, but also for creating each unique toy soldier with their own unique facial features and expressions.
The line of Thomas Gunn toy soldiers representing the WWII era has expanded to include American, British and Soviet WWII figures. More from that time of great trouble and turmoil are planned for the future. The Thomas Gunn Miniatures lineup also includes Napoleonic war figures, WWI toy soldiers and aircraft, figure from the "Naughty 40s," Berlin 1938, when Hitler was consolidating his power right before WWII, the French Foreign Legion, the African Wars, the French Indian Wars on the new continent of America, The Greek Wars and the Roman Empire.
Each figure is painstakingly and lovingly crafted and painted, as can be seen in the piercing gaze and ready positioning of this Thomas Gunn Miniatures Roman Empire ROM045A Thrust Part 2 (red shield) lowered.
Thomas Gunn Miniatures are passionate about the toy soldiers the create. Each piece is carefully researched and planned before production begins. A lot of care and thought goes into each figure.
Thomas Gunn toy soldier collectors share in the passion of the creators of these finely crafted treasures. Each month, collectors wait with anticipation for the new figures, usually released on the 4th of each month. The company has also created their own "Gunn Club" for collectors, which ensures members will have the latest information available on new creations.
Toy soldier collectors who enjoy the challenge of creating realistic battle scenes love the continued production of new figures representing the various great conflicts and campaigns of history. Some of the dioramas of great battle scenes created with Thomas Gunn toy soldiers are very realistic. For collectors loyal to history who love creating displays portraying actual events, it's encouraging to know that there will continue to be new, faithfully accurate figures, always crafted and hand painted with the same care and eye for detail that Thomas Gunn Miniatures has become famous for.