Posted by Robert Way on Dec 18th 2017
Trains and Toy Soldiers is dedicated to helping find the toy soldier you are looking for. To that end we are constantly updating our website and blog to help you learn more about your favorite toy soldier. Right now is a great time to be collecting military miniatures, there are many excellent companies competing with each other and improving the detail and accuracy with each new release. To make sure that your toy soldier collection is complete and allow you to observe the transformations throughout the years, we are beginning a series entitled Toy Soldiers by Series and Year. We hope you enjoy this new series and please send us a message here, if you have any ideas on how we can improve the series.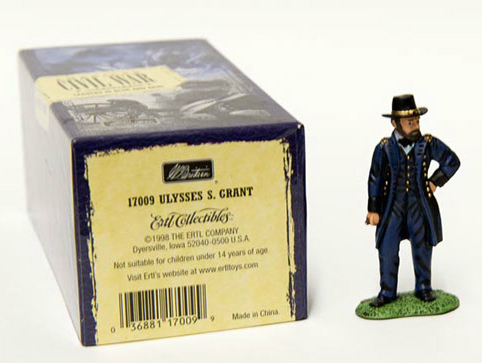 First up, Ulysses S. Grant item number 17009, one of the most famous and discussed general's in the history of the United States. This WBritain Grant figure was produced when ERTL was in charge of the Britain trademark and is one of the military minitures which toy soldier expert James Opie describes as "The Seventh Age of Britains" in his crisply written and superbly illustrated book , Britains Toy Soldiers (2016).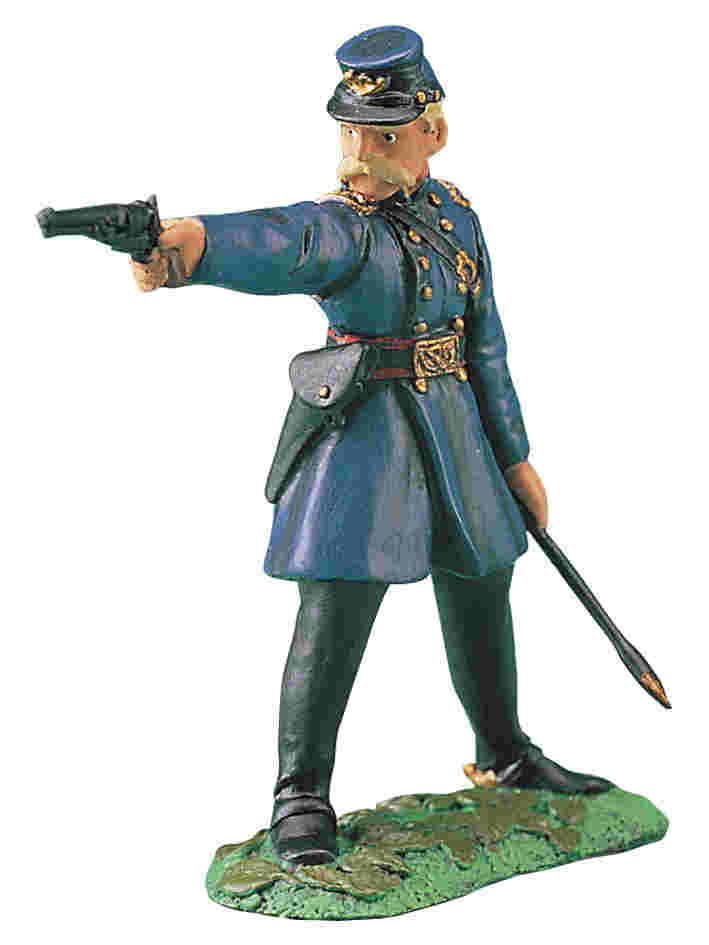 Joshua Chamberlain item number 17010. The Killer Angels by Michael Shaara made Joshua Chamberlain one of the most well known figures on the of the American Civil War. Joshua Chamberlain was already well known to serious students of American Civil War before the book and subsequent movie. His defense of Little Round Top against repeated assaults during the Battle of Gettysburg earned him the Congressional Medal of Honor. Well respected by his soldiers and fellow citizens, Joshua Chamberlain was elected as governor of Maine after the war.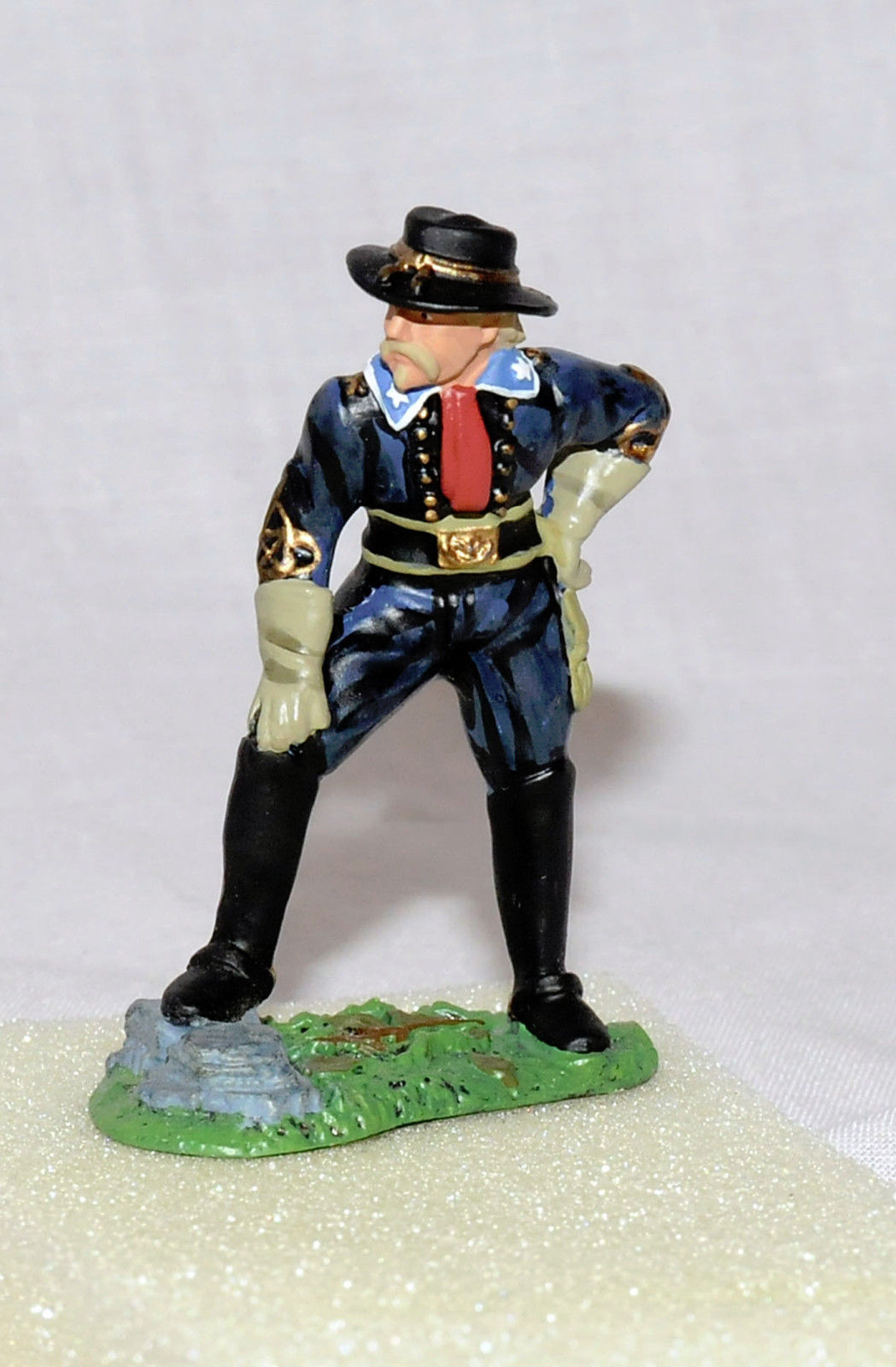 George A Custer item number 17011. Would later become famous for fighting and dying along with many of his men at Little Bighorn in 1876, but during the Civil War he served with the Union Cavalry. In 1863, George A Custer was promoted to Brigadier General and began to wear the flashy uniforms that would become his trademark. George A Custer also fought in Gettysburg and by all accounts acquitted himself well on those fateful days.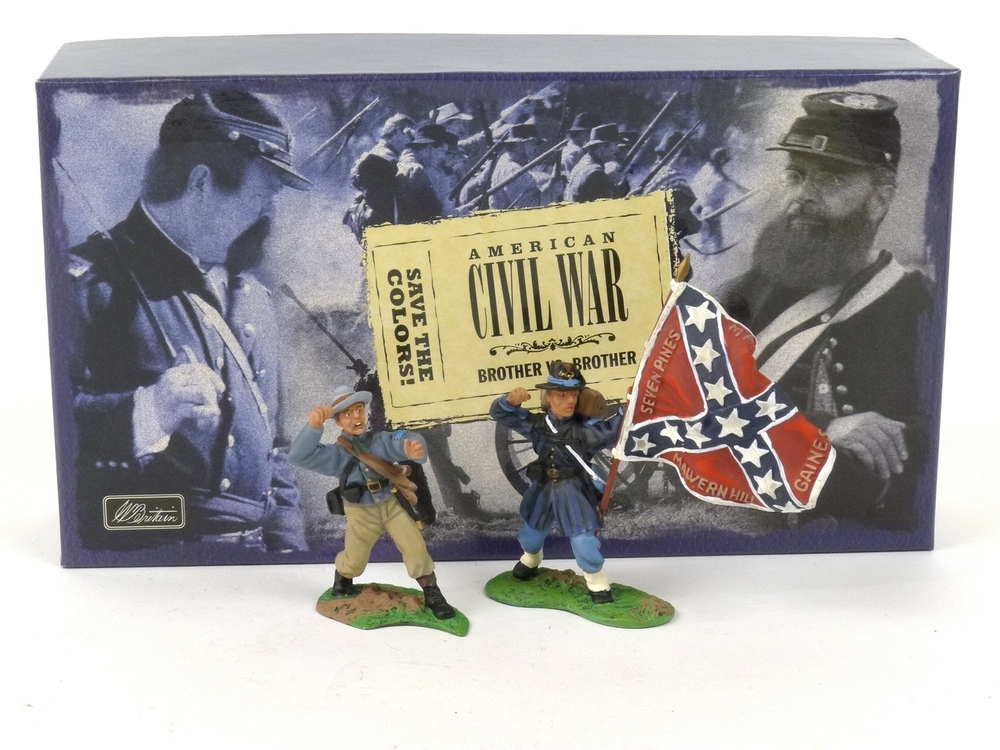 Corporal Frank Waller capturing Confederate Flag item number 17013, was the last figure to feature a Union soldier in the American Civil War. After the war, there was some debate about who had captured the flag that day and Wallar's account of the days events were published in the Milwaukee Sunday Telegraph in 1883. An excerpt of his account follows, "I will tell you just how I got the flag. We, the Iron Brigade, was formed in line of battle facing to the north, (if memory serves me aright), and advanced to the edge of a piece of woods where we came to a halt. We had been there but a few minutes when fighting commenced on our right, between a quarter and half a mile away and there was no men of ours on the right of the brigade where the fight was going on and our men were falling back leaving a part of a battery in the hands of the enemy. At this time Colonel Dawes moved his regiment in that direction, at a double quick, arms at a right shoulder shift. When we got within about three hundred yards of the enemy, where they were in a railroad cut just deep enough for good breastworks, they commenced a slow fire and the nearer we got the hotter the fire. And we did not fire on them till we were within less than two hundred yards of them. Then we kept up a steady fire, advancing all the time till within a few rods of the cut; then there was a general rush and yell enough to almost awaken the dead. Up to this time our line was as straight and in as good order as any line of battle ever was, while under fire. After that the line was not in such good order, but all seemed to be trying to see how quick they could get to the railroad cut. I had no thought of getting the flag till at this time, and I started straight for it, as did lots of others. Soon after I got the flag there were men from all the companies there. I did take the flag out of the color bearer's hand, but just as I made a dash for it someone shot him and he fell forward and the flag had not struck the ground till I had it, and my first thought was to go to the rear with it for fear it might be retaken, and then I thought I would stay, and I threw it down and loaded and fired twice standing on it."