It goes without saying that we love toy soldiers. This week, we're learning about where and when these cherished figurines came into prominence.
Military figures have been found in ancient Egyptian tombs and have appeared in many cultures and eras. Tin soldiers were produced in Germany as early as the 1730s by molding metal between two pieces of slate. Toy soldiers became widespread during the 18th century, inspired by the military exploits of Frederick the Great. Tin soldiers were the first toy soldiers to be mass produced: Johann Gottfried Hilpert (1748–1832) and his brother Johann Georg Hilpert (1733–1811) established an early assembly line in 1775 in Nuremberg for soldiers and other figures. Female painters applied a single color on each figurine as it was passed around the workshop. Today, the world's largest tin soldier is located in New Westminster, British Columbia, Canada. It is 32 feet tall and weighs five tons.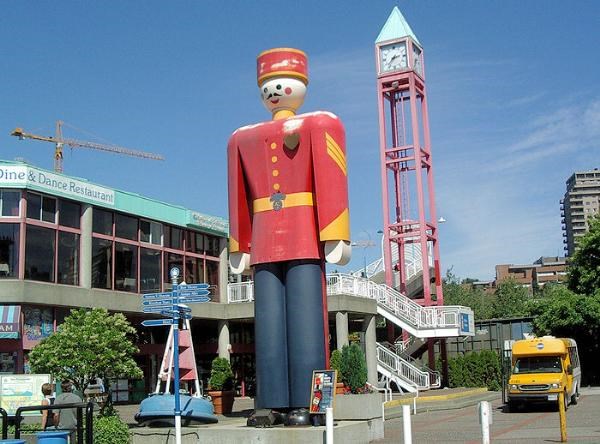 Image: The world's largest tin soldier. Image from Waymark.
Miniature soldiers were also used in the 17th, 18th, and 19th centuries by military strategists to plan battle tactics by using the figures to show the locations of real soldiers. In 1893, the British toy company William Britain (in stock at Trains and Toy Soldiers!) revolutionized the production of toy soldiers by devising the method of hollow casting, making soldiers that were cheaper and lighter than their German counterparts.
In addition to Britains, there have been many other manufacturers of toy soldiers over the years. Figures have been made from hollow cast lead, glue and sawdust, and more. After 1950, rising production costs and the development of plastic meant that many shop keepers liked the lighter, cheaper, and less fragile toys. This led to greater numbers of plastic toy soldiers. The first American plastic soldiers were made by Beton as early as 1937. The first plastic toy soldiers produced in Great Britain were made in 1946 by Airfix before they became known for their famous model kits range.
One large historical producer in plastic was Louis Marx and Company, which produced both realistic soldiers of great detail and historical collections of plastic people, including the "Presidents of the United States" collection, "Warriors of the World," "Generals of World War II," "Jesus and the Apostles," and figures from the Coronation of Queen Elizabeth II. Marx also produced boxed playsets that featured many famous battles with armies of two sides, character figures, and terrain features. Britains produced plastic figures under the brand names of Herald and Deetail. Also in England, the scale model company Airfix produced a variety of high quality plastic sets, which were frequently painted by hobbyists. Many Airfix figures were imitated by other companies and reproduced as inexpensive, bagged plastic army men. Timpo Toys, Britains main competitor in terms of sales and quality in the 1960s and 70s, developed the "Over-Molding" system, in which different-colored plastics were injected into the mold at various stages, creating a fully colored figure without the need of paint.
During the 1990s, the production of metal toy-grade painted figures and connoisseur-grade painted toy soldiers increased to serve the demands of the collectors' market. The style of many of these figures shifted from the traditional gloss-coat enamel paint to the matte-finished acrylic paint, which allows for greater detail and historical accuracy.
Take part in this great tradition with some new toy soldiers from Trains and Toy Soldiers, from King and Country to W Britain to John Jenkins Designs and beyond.

Image: W Britain toy soldier, American Civil War Union Infantry. Available from Trains and Toy Soldiers.