The Trains and Toy Soldiers shop is proud to present the American Flyer model railroad collection, a collection that holds items that will make any collector happy or bring happiness to anyone that enjoys toy trains with a high degree of real-life details. Why the American Flyer? The S gauge trains made by this company in the 50s were a real success, appreciated by an entire world. But, it is worth knowing that the American Flyer, part of the A.C. Gilbert Company, existed and unrolled its activity 50 years earlier than the moment of releasing the S gauge trains. With the help of toymaker William Frederick Hafner, the company developed the first clockwork trainin 1905, functioning on an O gauge track.
A friend of Hafner managed to acquire the Edmonds-Metzel Hardware Company, which started to produce toy trains. In 1907, two companies, more precisely Montgomery Ward and G. Sommers & Co., started selling these toy trains. In 1908, Edmonds-Metzel started using the American Flyer name for the trains it produced and, in 1910, the company disappeared completely, reemerging under the name of American Flyer Manufacturing Company. This is how one of the most known and appreciated model railroad manufacturers was created. Also known as the "Chicago Flyer", the company started producing toy trains that were cheaper than the ones produced by Ives, the market leader in this product segment. Clients started appreciating these trains and, before they even knew it, their production line started to expand. Still, even though you may think that this was a good thing, tensions started to appear between the company's founders, Hafner and Coleman.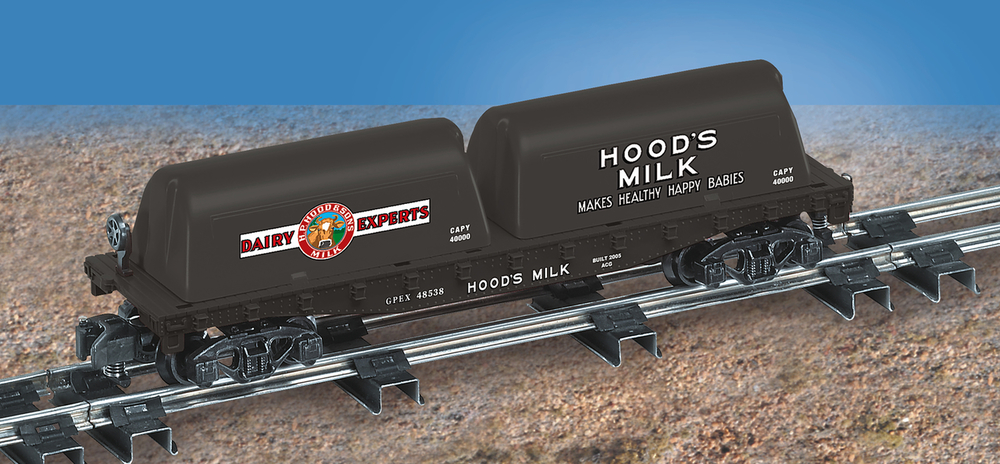 Thus, Hafner left the company and started his own toy train manufacturing business, which sold trains under the Overland Flyer name, very similar to the American Flyer trains. But his business venture didn't last long, as Hafner sold his company in 1951. Meanwhile, the American Flyer continued to develop, going through a rather successful period during World War I, when it excluded the German toy train manufacturers that controlled the market up to that point. In 1918, the American Flyer released on the market its first model of an electric train, which was an O gauge model that had a wind-up system instead of the old clockwork motor. In 1925, American Flyer provided wide gauge electric trains that came at an affordable price, as an attempt to compete against the product offers of the Lionel Corporation. Business looked great for the American Flyer in the 1920s, although the Great Depression affected the company significantly, which returned to producing a more economic model, O gauge trains.
When Ives went bankrupt in 1938, American Flyer and Lionel joined their forces to keep the company going. Thus, American Flyer started producing car bodies and other toy train parts. But, in 1930, it sold its share to Lionel, while struggling with an increased competition in the market at the same time. Things were not looking so bright for the company, as it found it hard to produce train sets that could be sold for less than $4, just like competition managed to do. But, it succeeded in providing toy trains under this price tag eventually and, even if sales went up, the company did not manage to produce a profit. So, by owning an American Flyer toy train, you actually get your hands on a piece of history connected to model railroading, enriching your collection with items that were extremely popular and appreciated a century ago.